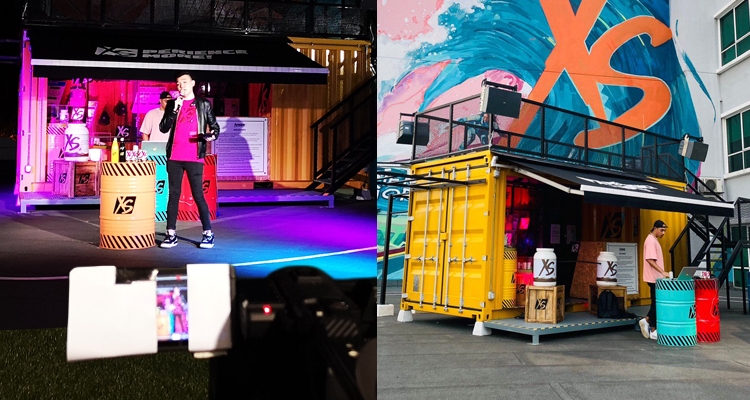 XS Fans Flock the Fiery Fiesta
What better way to spend a Sunday than relaxing to great music, great vibes and sipping an even greater energy drink?
On 28 June 2020, @xs_msb held the XS Fiery Fiesta on Instagram Live to ring in the launch of their newest energy drink flavour. The excitement was palpable even across the Internet as over 1,000 people tuned in to celebrate together in the New Normal.
Slick beats and great bass accompanied the XS Fiery Fiesta, held at the all new FitFactory by XS, another one of XS' newest projects.
Built early this year, the FitFactory by XS is one of the newest and coolest workout spaces available to ABOs looking to break a sweat. Set against the backdrop of a giant colourful mural representing the spirit of the XS Brand, which represents energy, adventure and pushing your limits, the FitFactory calls Amway HQ in Petaling Jaya home. Fitness fans can get in a few rounds of weights, truck tyres and make use of the assorted fitness equipment available upon request.
Keep an eye open for the official launch of the FitFactory by XS!

A Taste Like No Other
Category Manager Joyce Tan and emcee Ron Liew both flaunted their favourite shades of pink for the event that debuted the hot new XS energy drink can labels alongside the latest flavour Pink Grapefruit Fiery Blaze.
Dressed in her favourite shades of pink, Joyce took viewers through the wonders of the XS Pink Grapefruit Fiery Blaze. Not only armed with a flashy name and brand new can design, the energy drink comes with the added boost of green coffee bean extract. That's caffeine and chlorogenic acid together, which is best known for its fat-burning properties.
Talk about feeling the burn!

Friendly competition
Set against the backdrop of colourful XS-themed containers decor and party lights, the smooth sound of DJ Axel Jonas accompanied a slideshow of excited ABOs showing off their pink pride and love for XS with the hashtag #fitwithxsfieryblaze. The top 5 most creative IG story captions were treated to giveaway prizes of the limited edition black and yellow XS Stainless Steel Flasks.
Following the melodic tunes of Beyoncé, Justin Bieber and DJ Snake, the Fiery Fiesta's feisty flavour fans were announced. These #XSNation members earned the spotlight with their catchy captions:
@waning0326
@fckalaimoli_raja
@af_grapey24
@czi_fa
@ccyzen
Followers of @XS_msb were treated to yet another chance of earning bragging rights with a lightning round of quizzes based on XS Pink Grapefruit Fiery Blaze trivia.
Don't miss out on the latest updates about XS and the new adventures we're planning for the new year.