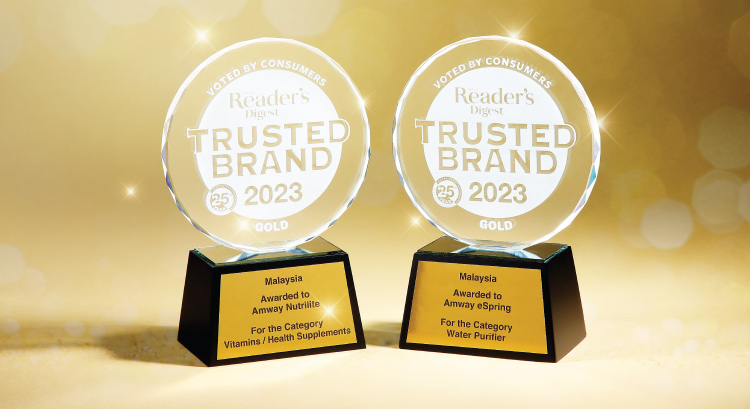 It is amazing how we are once again celebrating Nutrilite (19 years in a row) and eSpring (18 years in a row) at the Reader's Digest Trusted Brands Awards 2023. After all, it is a known fact that both brands enjoy strong recognition from international and local consumers.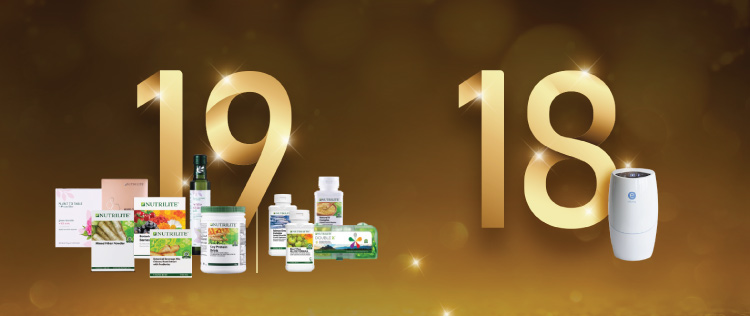 What an incredible night it was, as the Awards were held at the glamorous Grand Hyatt Kuala Lumpur, on 7 June 2023. It was a night dedicated to recognising and celebrating leading brands within the nation that have made a lasting impression on consumers. And clearly, Nutrilite and eSpring have achieved this.
The night was officiated by Sheron White, Reader's Digest's Group Advertising and Retail Sales Director for Asia-Pacific, who gave a powerful speech on the importance of trust in building a strong brand. Building a solid foundation of trust involves brands meeting their objectives.
This success is only possible through upholding the brand values of trustworthiness and credibility, quality, value, understanding of customer needs, innovation and social responsibility. These are – as well as commitment and dedication – the same values that Louise Waterson, Reader's Digest's Editor-in-Chief of the APAC region, cited during her inspiring speech.
Is this a pay-to-win award? And how much did Amway pay to win this award?
Absolutely not! Reader's Digest commissioned Catalyst Research, experts in marketing research, to independently survey 8000 individuals, to discover their views on products and services in over 50 categories. Trust is vital and you can be rest assured that there is absolutely no chance of foul play.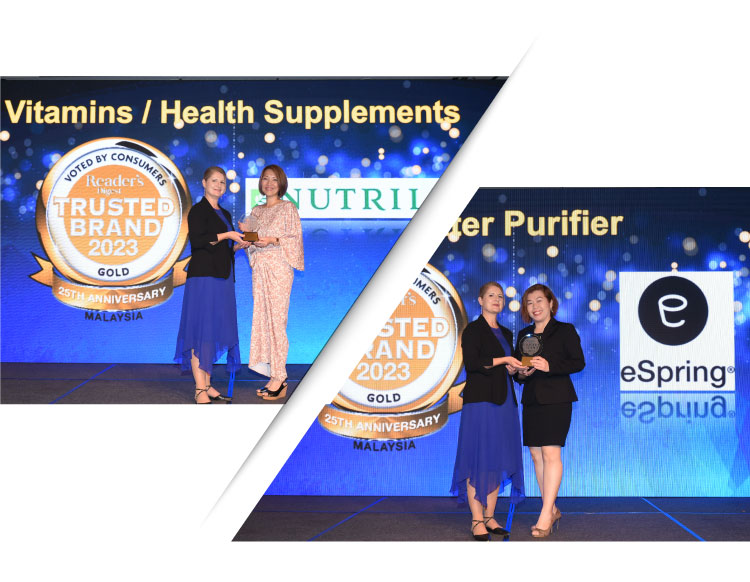 Nutrilite, which was represented by Joyce Tan, Senior Brand Manager Nutrition & Innovation, was awarded the Gold Award for Vitamins/Supplements Category, while eSpring, which was represented by Cass Yeoh, Category Manager for Home, was awarded the Gold Award for Water Purifiers.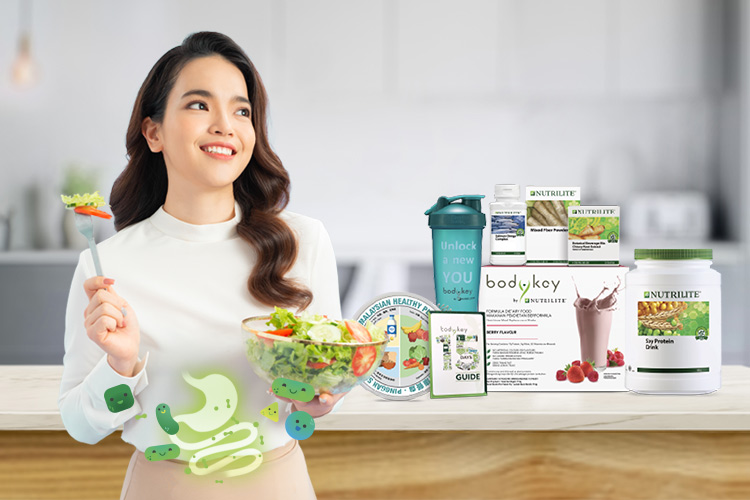 Amway is at forefront in combating the national health crisis; the constant rise of people suffering from 3 Highs (High Cholesterol, High Blood Pressure and High Blood Sugar – diabetes). As such, back in March 2023, Nutrilite made a huge breakthrough when it launched the BodyKey Gut Reset Weight Management Programme. This programme, inspired by scientific insights and supported by Nutrilite supplements, is designed to help consumers embark on a sustainable weight management journey that starts with their gut, and the visible results of improved health from their tests results when they consciously follow the programme.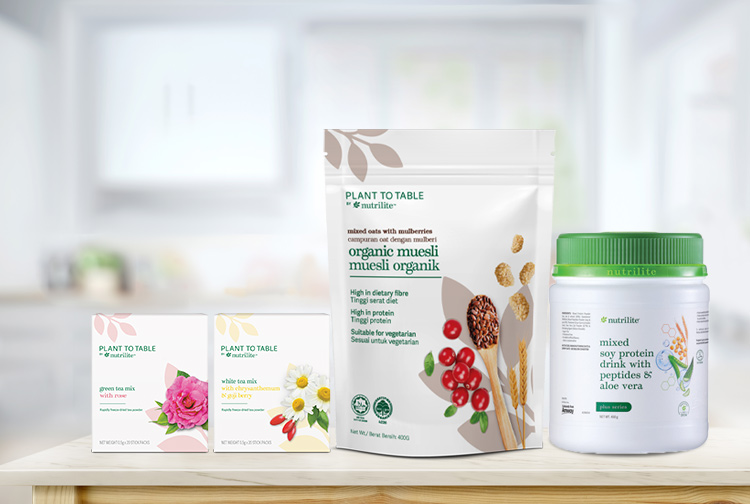 On the search for healthier options, Nutrilite also released a Plant to Table by Nutrilite range, the latest being its Organic Muesli, as well as the Modern Herbal Nutrition range with an Eye Health 30-stick pack in liquid form. Earlier this year, Nutrilite also launched a groundbreaking new product that is ideal for individuals seeking to enhance mobility, and to maintain and improve muscle strength, Nutrilite Mixed Soy Protein Drink with Peptides & Aloe Vera.

All these constant innovations and our pledge to grow, harvest and process plants from our own certified organic farms have made Nutrilite the world's #1 selling vitamin and dietary supplement brand*.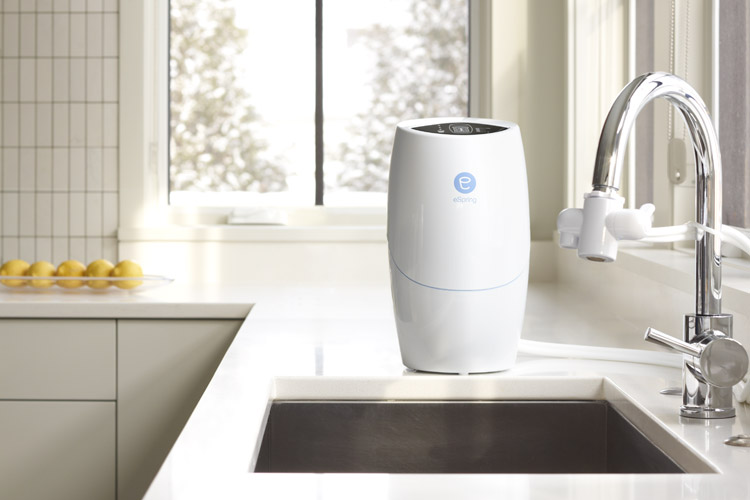 Of course, eSpring's achievements throughout the years must be highlighted as well. Amway's goal has always been to help people live better, healthier lives, which is what inspired the invention of the eSpring Water Treatment System back in 2000. With its innovative eCoupled wireless inductive coupling technology, it safely combines UV and carbon technologies into a single cartridge, making it highly durable, energy-efficient and user-friendly.
The patented multi-stage carbon-block filter cartridge is made from coconut shell-based activated carbon, which effectively removes more than 140 impurities yet retains beneficial minerals like calcium and magnesium. In addition, its ultraviolet (UV) Lamp destroys up to 99.99% of bacteria and viruses in drinking water.
No wonder the eSpring Water Treatment system is the world's first home water treatment system to meet or exceed three internationally recognised water quality standards, in accordance with the stringent requirements of the National Sanitation Foundation/American National Standards Institute:
Standard 42, which tests systems for effluents' aesthetic characteristic

Standard 53, which tests systems for ability to remove detrimental contaminants

Standard 55, which tests UV water treatment systems for the efficacy of microbial control
It is clear that our commitment to quality and innovation throughout the years has contributed greatly to the trustworthiness of these two brands.
We look forward to celebrating many more successes in years to come!
*Claim: Nutrilite is the world's #1 selling vitamin and dietary supplement brand
Date Validated: May 12, 2023
Methodology: The source for the claim validation is GlobalData's market sizing database which contains category market sizes and brand shares for various nutrient and supplement products in over 200 countries worldwide. Based on retail value share. Please note that Nutrilite includes sales of both Nutrilite and Nutriway-branded products.