Amway's Southern Flagship Store, the Amway Ponderosa Shop, has clinched the Iron Award under the Spatial category in the A' Design Awards, an international design award based in Italy. The A' Design Award and Competition is the world's largest, most prestigious and influential design accolade, and recognises the highest achievement in design.
Located at Taman Ponderosa, Johor Bahru, the Amway Ponderosa Shop is the latest retail experience centre that focuses on providing immersive experiences – shopping, dining, learning and socialising – all under one roof. The award was acknowledgement of the effort that went into the successful conversion of a 3-storey retail building, with a total floor area of 10,200 sqft, into a full-fledged operational multifunctional retail store.
The award-winning multifunctional retail space features a simplistic Nordic theme, with natural elements of wood and marble in the retail area. It features a biolithic design with a double volume ceiling and full height glass panels that allow plenty of natural sunlight penetration for a handcrafted lush vertical garden, transforming a stereotype retail space into a cosy home setting.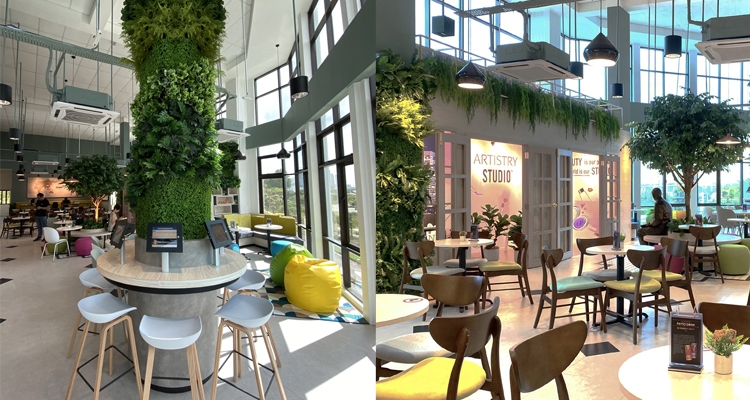 Share. Engage. Connect.
Unlike a conventional retail store, this multifaceted retail store is outfitted with interactive product displays and online order kiosks, a touchscreen TV featuring the Amway Malaysia Central app for the latest news and promotions, and tester bars to offer shoppers a lifestyle-focused interactive shopping experience.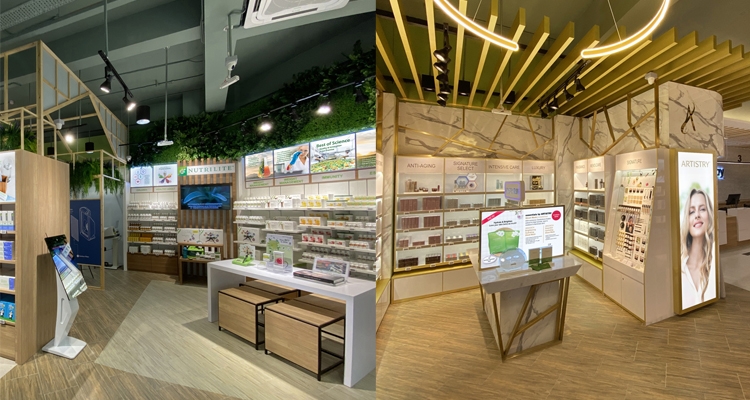 The outlet, which opened its doors in January 2020, also features the largest PhytoCafé to date, with live streaming corner for co-working, socialising and experience sharing.
For the convenience of the Amway Business Owners, the store offers facilities including analysis and consultation rooms for beauty or nutritional assessments, a fully equipped AmwayKitchen kitchen for cooking demonstration and the largest training room among all Amway Shops with a capacity of 150 seats. This enables the ABOs to receive training as well as hold group business meetings.
The double volume ceiling and full height glass panels brings in plenty of natural sunlight for the lush vertical garden
The spacious PhytoCafé at Amway Ponderosa pays tribute to Carl Rehnborg, the founder of Nutrilite, amidst a cosy setting
The outlet boasts features the largest PhytoCafé to date, with live streaming corner for co-working, socialising and experience sharing
The retail area, featuring natural elements of wood and marble, has a touchscreen TV where Amway Business Owners can look for the latest news and promotions
The store features a simplistic Nordic theme, with generous use of marble, and tester bars to offer shoppers a lifestyle-focused interactive shopping experience