STRENGTH & BOUNCE
Fitness isn't all about pushing yourself beyond the limits. In order to build muscle, your body needs time and the right nutrients to recover. Whey protein, in particular, plays a key role in this.
What you need is a high-quality whey protein blend rich in branch chain amino acids. Every serving of the XS Mixed Whey Protein with Chocolate Flavour provides 30 grams of protein to help recover and build muscles, without added fats, artificial colours, sweeteners or flavours.
This creamy blend of whey protein concentrate and whey protein isolate also contains superfoods like Spirulina and Chia Seeds for antioxidant and anti-inflammatory effects. Its delicious chocolate flavour makes it a great post-exercise snack.
Give your body the quality whey protein it needs to improve recovery and promote muscle growth today!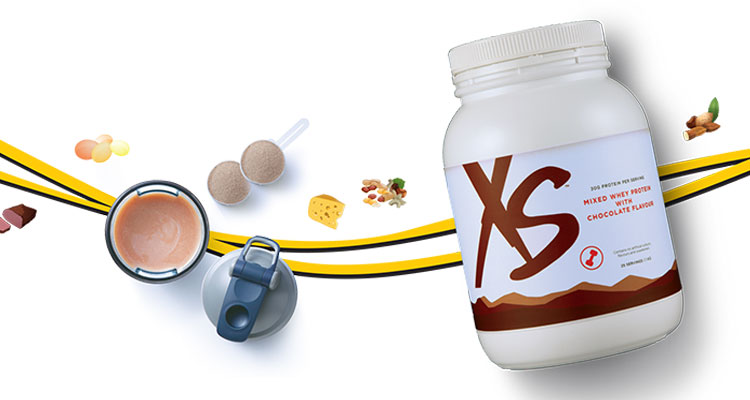 BUILD ME UP
Ask anyone in the gym: everyone has a story to tell on how fitness changed their lives for the better. Take, for instance, the stories of XS Force – a team of ABOs and part-time personal trainers selected as panellists to share their fitness experiences and how XS Mixed Whey Protein plays an important role in their muscle building journey.
Darren Kong, 24, recalls how a friend first brought him to a gym back in college. "At the time, I had no interest in fitness," he laughs. "What kept me going was what this industry calls gains – compliments and support."
For Lim Ken Yee, 29, it was swimming with his father that first instilled his exercise habit. In university, his classmates introduced him to the gym, and he fell in love with fitness. Ken then set himself short- and long-term goals to lose weight and take part in fitness competitions or races.
Pris Khu, 24, reveals her main fitness goal is to be stronger and better physically. "Now that I've gained much more strength and mobility, I can do a lot more."
Nik Muhammad Rabbani, 34, continued to build his body even after he lost unwanted weight. "I jog every morning but focus more on at-home workouts," he shares.
Experts believe one secret to sustained fitness programmes lies in how being in top form makes you feel. Before working out regularly, Darren had limited physical capabilities but now he is able to perform better in workouts. Similarly, Pris says exercising has significantly increased her strength.
Adds Nik, "Back then, I was weak and my posture was unhealthy. These days, I'm much stronger." Meanwhile, Ken says keeping fit gives him confidence and helps him maintain self-discipline.
All four agree that a healthy diet was key in their fitness journey. A high level of whey protein was especially important in order to build muscle and improve post-workout recovery.
When comes to product efficiency, many often refer to testimonials or experiences shared by friends who had used such products before investing in them. Therefore, XS Force was introduced to XS Mixed Whey Protein for almost 2 months.
Darren explains that XS Mixed Whey Protein helps him recover quickly, gain muscle mass and maintain performance thanks to its fast-absorbing protein and amino acids. Ken concurs, "XS Mixed Whey Protein helps by promoting muscle growth and faster recovery. It tastes great too!"
Pris also agrees that XS Mixed Whey Protein provides better restoration and recovery, is easy to consume and tastes delicious. And while Nik feels that Nutrilite Soy Protein Drink helps to fulfil his daily dietary gap, he finds XS Mixed Whey Protein is excellent for speedy recovery and muscle building after a heavy workout. For XS Force, adding XS Whey Protein to their daily consumption together with Nutrilite Soy Protein truly helps them become fitness heroes.