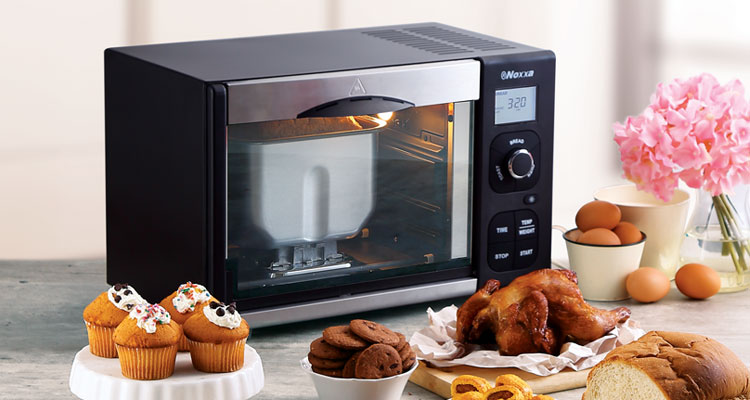 Baking Mode: ON
Home-baked goodies almost always trumps store-bought versions. So, make full use of the Noxxa BreadMaker Oven Toaster and try this recipe. The resulting aroma of freshly baked cakes might even lure the neighbours!
Fruit Cake Recipe
Ingredients
Eggs 3
Milk Powder 3tbsp
Melted/Softened Butter 150g
Mixed Fruits 350g
Sugar 120g
Self-Raising Flour 160g
Self-Raising Flour 40g
Double Action Baking (DAB) Powder 1tsp
Mixed Spice ½tsp
Baking Soda ¾tsp
Vanilla Essence 1tsp
Fresh Orange Juice 100ml
Method
Soak mixed fruits in orange juice for at least an hour. Then, strain the mixed fruits and pour the fruit juice into the bread pan. Stir the mixed fruits with 40g of self-raising flour. Leave it aside.
Add eggs, milk powder, melted butter, sugar, 160g of self-raising flour, mixed spice, baking soda, DAB powder and vanilla essence into the bread pan. Put the bread pan into oven. Select CAKE programme.
At the stir beep [1:11], use the spatula to scrape the flour from the sides of the bread pan and mix well.
Pour in the mixed fruits. Return the bread pan into the oven to continue baking till the programme ends.