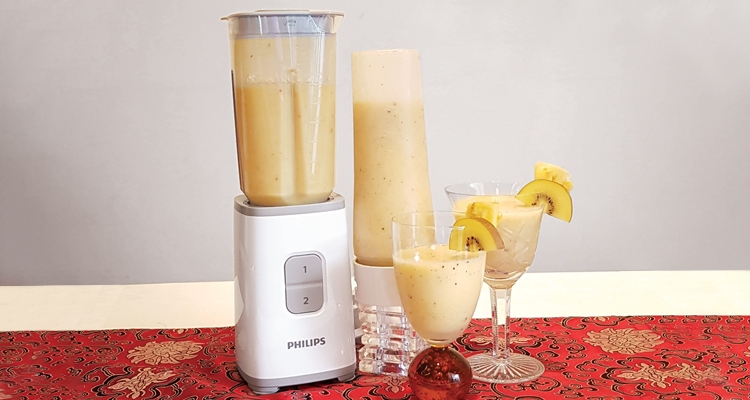 Philips Mini Blender, On-the-Go Tumbler & Multi Chopper HR2603/01
Features
3-in-1 Function: Blender, On-the-Go Tumbler & Multi Chopper
On-the-Go Tumbler
With your busy lifestyle, you'll love how easily you can make and take away healthy beverages every day. Blend ingredients in the Tumbler and then bring it along with you.
Multi Chopper
Prepare a variety of food preparation with this versatile Multi Chopper. Suitable for chopping vegetables like onions, herbs, nuts and boneless meat.
350W motor: Quick and easy blend
4-star blade: Finely blend ingredients
Two speed settings: Control how fast and fine you wish to blend the ingredients.
Compact design: Saves space. You can store it on your kitchen counter and keep within reach for daily use.
Quick clean: Easy to clean with the detachable 4-star blade.
Refreshing Pineapple & Kiwi Juice Recipe
Ingredients
500g sliced pineapples
250g sliced golden kiwis
2 slices preserved sweet plums
200g ice
100ml water
Method
Place all ingredients into the Philips Mini Blender.
Blend well and pour into glasses.
Ready to serve.