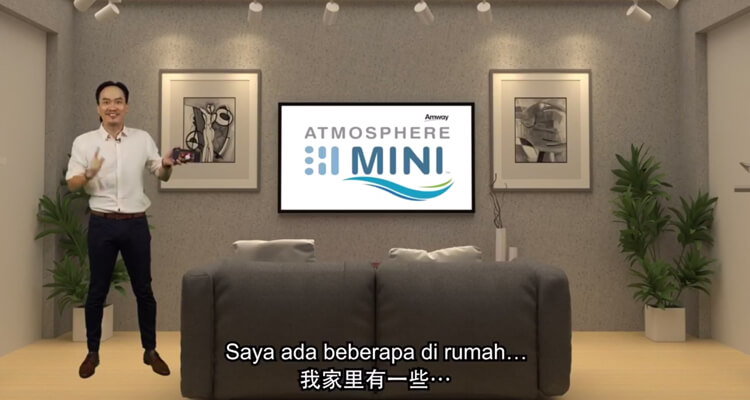 The evening of Saturday, 26 June 2021, was rife with excitement as many viewers tuned in to Amway Malaysia's Facebook page for an exciting live event - the Atmosphere Mini e-Rally!
With esteemed speakers such as Dr. Wong Chee Kuan, Bill Luke, Amway's Director of Wellness Device Department, and inspiring leader Dr. Ignatius Augustine, making a virtual appearance, this event was one of the highlights of the month.
The Atmosphere Mini e-Rally offered our avid audience an opportunity to discover and learn from experts how the Atmosphere Mini Air Treatment System helps improve indoor air quality indoors for fresher air with every breath.
Plus, as a special treat, those who joined the live event had an amazing opportunity to walk away with RM200 or S$70 vouchers with the Why You Love Atmosphere Mini Contest that was held during the virtual event. The support from our audience was more than expected as there were a whopping 3,000 shares and 6.8K comments left on why the Atmosphere Mini is loved by all.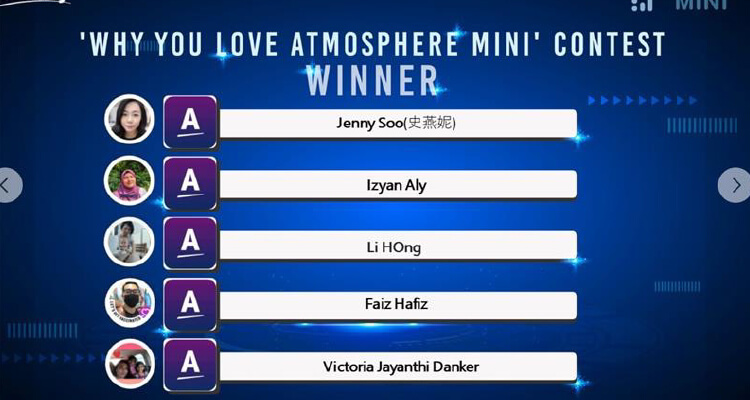 Why You Love Atmosphere Mini Contest Winners
Jenny Soo
Nurizyan Zawanah Kamaruddin
Lim Lay Hong
Ahmad Faiz Ahmad Hafiz
Victoria Jayanthi Danker
Starting at 8pm sharp, the live video began with eye-opening facts about air pollution. In fact, did you know that air pollution is responsible for the death of 1 in 9 Malaysians? What a shocker!
What's more, it's not only outdoor air that's polluted. Many a time, even the air indoors in our homes and offices are polluted with dust, pet dander, smoke, and other pollutants - only we don't know it and that can bring adverse effects on our health.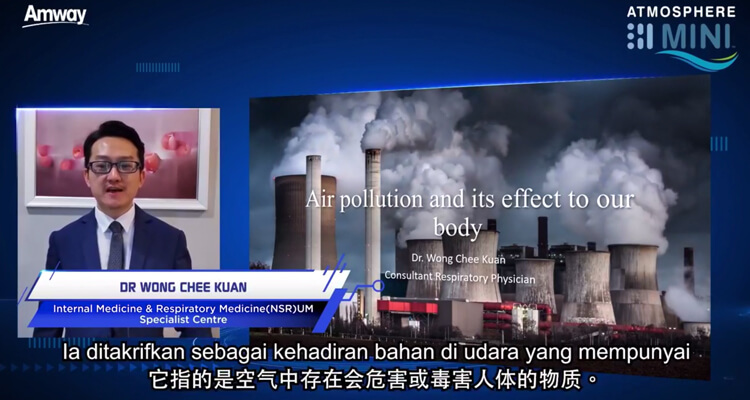 After the introductory video continued to explain the various sources of indoor air pollution, there was a moment of humour injected during the e-rally, as the host of the evening tried various "WhatsApp-approved" methods of air purification such as using onions and hot water to improve air quality. Luckily, Dr. Wong, who specialises in Internal Medicine and Respiratory Medicine at the UM Specialist Centre, came to the rescue with his expert medical opinion on how air pollution affects the body's respiratory system.
"Our lungs are constantly exposed to the outside environment, and if the air quality is poor, our lungs will have to work even harder to keep our body safe from harmful pollutants," said Dr. Wong.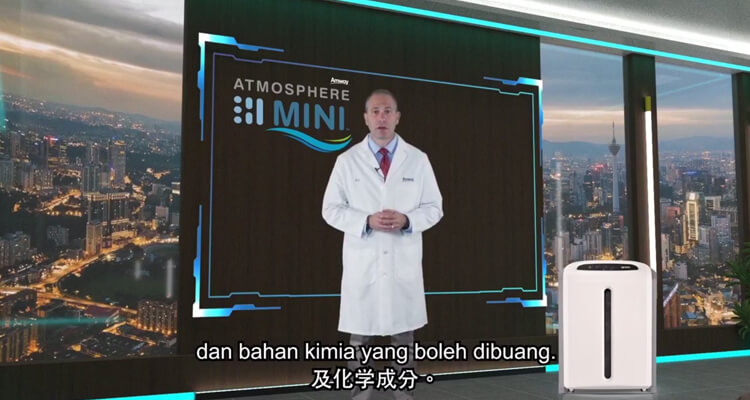 One of the easy ways to prevent air pollution from harming the body is to invest in a good quality air purifier. But not all air purifiers are built equal, and that's where Bill dropped by to answer some common questions about air purifiers. One thing of note mentioned was the importance of paying attention to the filters in air purifiers.
Most filters remove larger harmful particles, but it's the small particles that can even bypass the body's natural defences that we have to pay attention to, he explained. That's where Atmosphere Mini Air Treatment System has a leg up on similar air purifiers built to effectively purify the air in smaller rooms.
"Atmosphere Mini's particulate filter can effectively remove 99.99% of particles as small as 0.0024 microns – that's about 30,000 times smaller than a single human hair and reduce over 300 chemical contaminants from the air that passes through the unit," highlighted Bill. "Atmosphere Mini has a Clean Air Delivery Rate or CADR of more than 130cfm, which makes it powerful enough to clean rooms up to 200sqft in size with a 100% efficiency."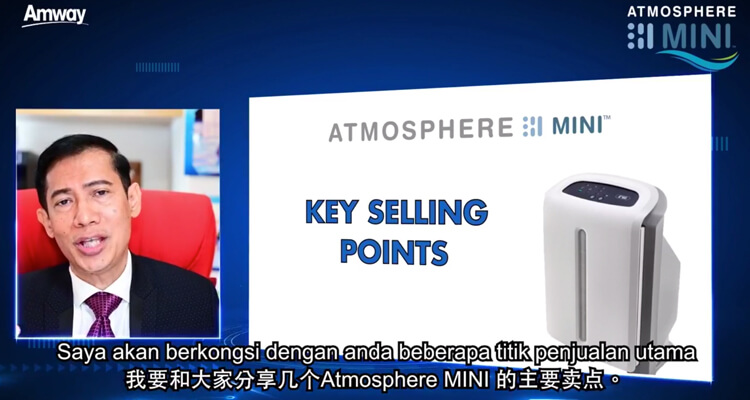 So, it's no wonder that Atmosphere is the world's No. 1 selling air purifier - and that's something inspiring leader Dr. Ignatius Augustine agreed on too. "You've made the wisest choice in your life to choose Amway" he added.
Click here to find out more about the new Atmosphere Mini.