ARTISTRY's first event for the year 2021 introduced the much-anticipated ARTISTRY SKIN NUTRITION collection. Celebrity emcee Nadia Heng officiated the eRally by inviting Joanne Chong, Head of Marketing, to delve into the convergence of Nutrilite and ARTISTRY.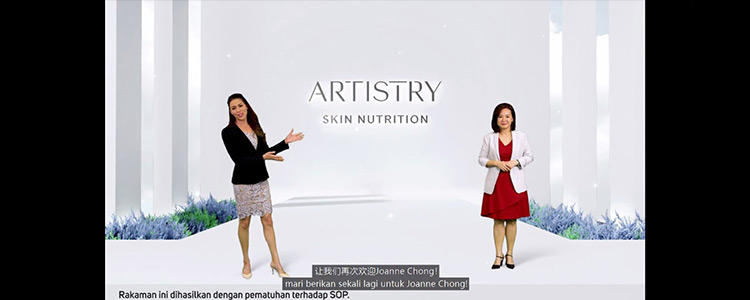 Aligning the spirit of Healthy Beauty with changing priorities brought on by the new normal, Joanne elaborated on the transition from nutrition to beauty, emphasising on what consumers need during the Covid-19 pandemic. She also gave viewers the first look at the new ARTISTRY SKIN NUTRITION Balancing and Hydrating Solutions, created to satisfy the aforementioned needs.
Further exploring these two skincare solutions and the scientific advancements behind them were VIP guest speakers from Amway Global: Jesse Leverett, Global Discovery, R&D Scientist and Maggie Pepoy, Global Brand Manager.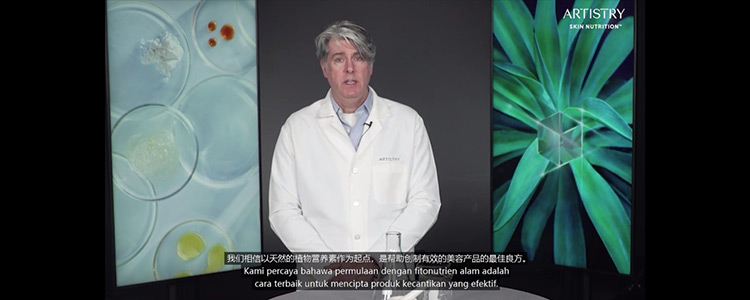 Jesse spoke on the innovative science behind ARTISTRY SKIN NUTRITION, a range that translates science into beauty through a new understanding of skin health. The collection, which he adds is paraben-free, vegan-certified and with no animal testing, fulfils the skin's 5 key nutritional requirements to look its healthy best, namely to Purify, Balance, Rebuild, Moisturise and Protect.
For this, ARTISTRY merged over 60 years of beauty expertise with over 85 years of knowledge on health, nutrition and phytonutrients from Nutrilite. The result: Products that act as supplements for the skin, formulated with Nutrilite ingredients grown on its very own farms.
Jesse also explained how the formulations followed strict ARTISTRY Clean guidelines, made without harmful ingredients and fortified with traceable active botanicals. Each ARTISTRY SKIN NUTRITION is also registered with the Vegan Society.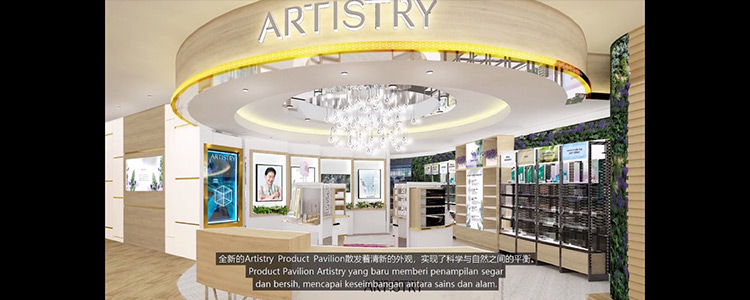 During a break, Nadia took viewers on a virtual tour of the revamped ARTISTRY Product Pavilion, redesigned to celebrate the new collection. Outstanding elements include the vibrant displays of Phyto Force and the hero ingredient White Chia Seed as well as touches of warm wood and walls of lush greenery to emphasise ARTISTRY SKIN NUTRITION's close connection to nature.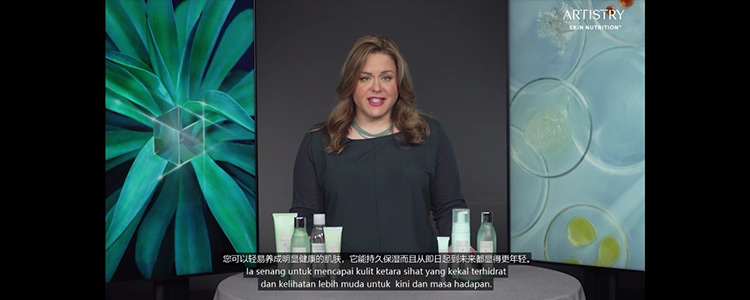 Next, Maggie shared her insights on the new ARTISTRY SKIN NUTRITION products. From cleansers to toners and moisturisers, not to mention the eye gel cream and makeup remover, this session took a closer look at the beneficial ingredients that went into each formula, how to use them and which skin nutritional requirements they fulfilled.
Then, Nadia introduced the audience to 5 panelists – Yap Ming Hao, Nur Amalina, Terence Foo, Chloe Tan and Zul Afkar – who shared their personal experience using the ARTISTRY SKIN NUTRITION Balancing and Hydrating Solutions. The evening ended on a fun note with exciting prizes up for grabs in an online quiz and an outtake from the recording of the event.
Click here to find out more about the ARTISTRY SKIN NUTRITION collection.