Even if you are not new to masking, the wealth of varieties currently available on the market is daunting, leaving many to wonder which mask to add to their regular skincare routine, not to mention how or when. Fret not – we'll tell you all you need to know:
Wash-off masks
Featuring a myriad of textures from creamy to grainy and jelly-like, these masks cater to various needs. There is something for everyone to address all types of skin concerns. Smooth on generously, relax for the instructed length of time and rinse off. Follow up with moisturiser.

Sheet masks
Quick, convenient, and so easy to use, who could say no to sheet masks? Just 15 minutes refreshes your face completely – and with new designs in all shapes and sizes, they make for some pretty fun portraits to light up your Instagram grid too! Simply unfold, fit it onto your face and chill out. After removing, massage any remaining essence into your face and neck.

Sleeping masks
This is a wonderful way to fall asleep. After your night-time routine of cleanser, toner, serum and moisturiser, massage an overnight mask into your skin and instantly feel it locking in all the hydration. No need to rinse – just wash it off the next day.
Sounds good, yes? What about ARTISTRY's selection of masks? We thought you'd never ask.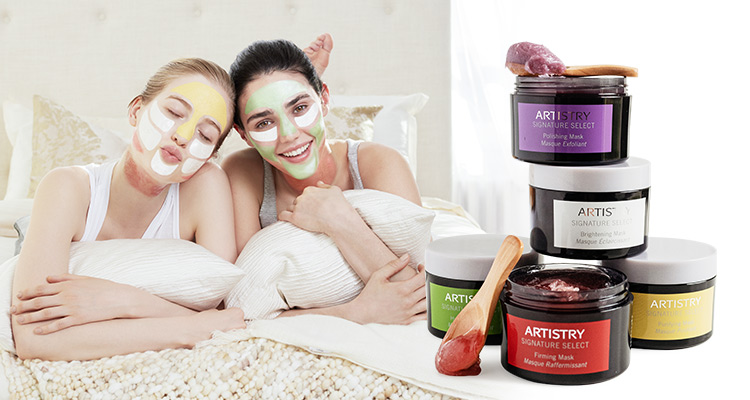 These masks are a great way to customise your skincare. Mix and match using different masks on various parts of your face to target multiple skin concerns. Select from 5 variants:
ARTISTRY SIGNATURE SELECT Polishing Mask
With natural Cane Sugar and Nutrilite-sourced Black Currant Extract to polish away dullness and dead cells for glowing skin that is even in tone and texture. Great as a face scrub.

ARTISTRY SIGNATURE SELECT Brightening Mask
With natural Loofah Grains, Jojoba Beads and Nutrilite-sourced White Chia Seed Extract to exfoliate and brighten skin. Perfect for a more radiant, translucent complexion.
ARTISTRY SIGNATURE SELECT Firming Mask
With Nutrilite-sourced Pomegranate Extract to firm up and renew skin while giving it a boost of nourishment and antioxidants. An excellent choice to prevent wrinkles and sagging.
ARTISTRY SIGNATURE SELECT Purifying Mask
With French Clay, Oatmeal and Nutrilite-sourced Citrus Extract to absorb excess oil, mattify skin, draw out impurities and pollutants. Just the thing to shrink enlarged pores.
ARTISTRY SIGNATURE SELECT Hydrating Mask
With Nutrilite-sourced Green Tea Extract to deeply hydrate and refresh skin, help provide antioxidant protection and soothe skin from irritants. A hero for dry, sensitive complexions.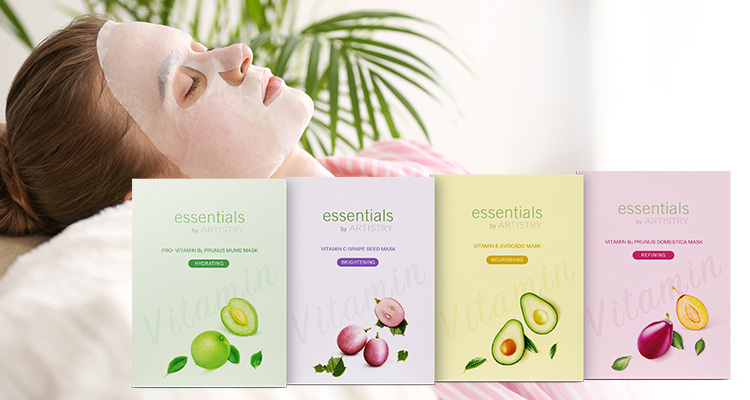 An upgrade of our previous sheet masks, these care for your skin with a double essence of vitamins and phytonutrients. There are 4 variants to choose from:
essentials by ARTISTRY Pro-Vitamin B5 Prunus Mume Mask – Hydrating
Does your face feel dry? Prunus Mume Extract helps to improve the skin's metabolism while Pro-Vitamin B5 promotes skin cell renewal. It also strengthens the moisture barrier to keep it healthy.
essentials by ARTISTRY Vitamin B3 Prunus Domestica Mask – Refining
Got sensitive skin? Prunus Domestica Extract helps to soothe irritation while Vitamin B3 enhances moisture. It also increases skin metabolism and regenerates delicate complexions.
essentials by ARTISTRY Vitamin E Avocado Mask – Nourishing
Is your skin hungry for more? Avocado Extract locks in moisture while Vitamin E regenerates cells damaged by free radicals and promotes cell growth. It also nourishes the skin.
essentials by ARTISTRY Vitamin C Grape Seed Mask – Brightening
Want to get glowing? Grape Seed Extract provides antioxidant protection while Vitamin C brightens skin tone and improves skin texture. It also transforms dull and yellowing skin.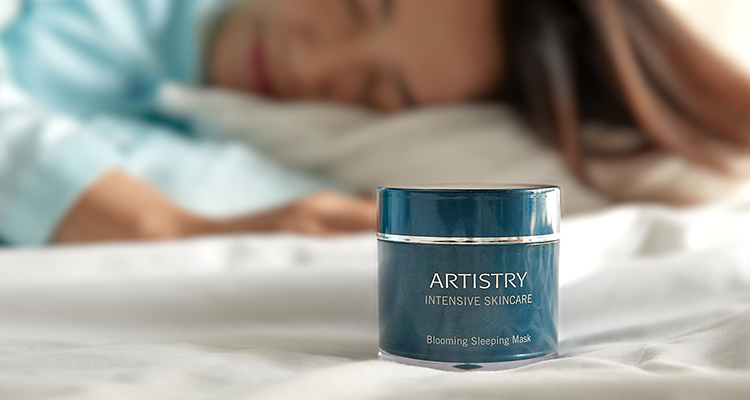 ARTISTRY INTENSIVE SKINCARE Blooming Sleeping Mask
The latest addition to our mask family, the Blooming Sleeping Mask is an excellent overnight treatment mask. Featuring advanced technologies and powerful ingredients, this moisturising mask rejuvenates mature skin while soothing redness and irritation.
It contains Fermentia CICA to deeply hydrate dry skin, soothe irritation and inflammation. AA2G and Chrysanthemum Extract prevent and delay DNA damage while giving skin a boost of antioxidants and brightening. Skin is also soothed thanks to the MultiEx BSASM©, a botanical blend of 7 plant extracts. Lastly, Nutri-Cert lavender and bergamot essential oils and an accompanying rhodium massager complete the skin calming and lifting experience. All in all, it's the perfect new friend for mature skin.

Shop our wide range of masks at Amway.my