When it comes to skincare, there are so many opinions on the best products to use or the correct number of steps in a routine. One thing most beauty gurus can agree on: it's the ingredients that matter.
Natural ingredients have stood the test of time and are becoming a more popular choice these days as they are found to be safer for both application and consumption. After all, what you eat makes a difference to your skin too!
Among natural ingredients, superfoods are making a name for themselves because of the benefits they offer. These power-packed ingredients may look tiny at times, but they are full of antioxidants, Omega fats, Vitamin E and everything that's fantastic for your skin. Get started on a new beauty regime and feed your skin these 8 superfoods!


White Chia Seeds
Boasting moisturising and antioxidant properties, their potent phytonutrients help to visibly nourish and protect the skin's healthy beauty. Eat raw, blend into your smoothie or sprinkle over your meal.

Shiso Perilla
This Japanese herb is a triple threat. Since it's rich in calcium, iron and Vitamin A, it has anti-allergy and anti-inflammatory properties, and it's perfect to soothe skin irritation.


Aloe Vera
Nature's one-stop healing solution, aloe vera has been used for centuries to soothe and heal skin. Add it to food and drinks to reap the full benefits of its Vitamins A, C, E and B12, folic acid and choline.

Pomegranate
A favourite in Mediterranean salads, this fruit has anti-pollution benefits to protect against oxidative damage and wrinkled skin. Used in skincare products, pomegranate has powerful anti-ageing properties.


Acerola Cherry
This native West-Indies fruit is one of the best sources of Vitamin C. Extracted for skincare products, it helps delay the appearance of early visible ageing and boosts the skin's natural defence system.

Blackberry
Sweet and delicious, these berries are brimming with fibre, Vitamins C and K and manganese to nourish your body and your skin for a gorgeous radiant glow!


Watermelon
Refreshing and hydrating, this is a great snack for a hot day and a cool twist to salads. Packed with Vitamins C, A, B1, B5 and B6, potassium, magnesium, beta-carotene and lycopene, it helps protect skin from damaging free radicals and pollutants.

Quinoa
A popular rice substitute, this gluten-free grain is high in protein, fibre, magnesium, B Vitamins, iron, potassium, calcium, phosphorus and Vitamin E. Eyecare products use quinoa as an ingredient to help reduce the appearance of dark circles.


Feed your body and your face SEPARATELY.
Of course, we know it can be difficult and expensive to incorporate all these superfoods into your diet on a daily basis. Fortunately, you don't have to eat it when it's already in your skincare!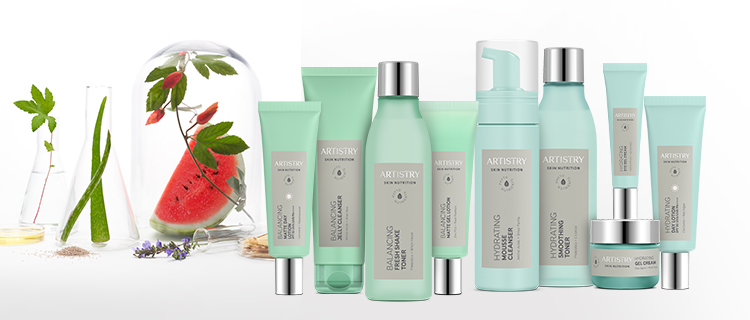 ARTISTRY SKIN NUTRITION to the Rescue
Combining advanced science, nutrition and skincare, ARTISTRY SKIN NUTRITION gives you a range of products packed with all the superfood benefits above.
Backed by Nutrilite's traceability promise, these organic ingredients are extracted with the greatest care so you know that they're pure, safe and effective. Plus, did we mention they're vegan and formulated without mineral oils, parabens, phthalates and sulfate-based surfactants?
So, if you're looking for visibly healthy skin using clean beauty with no compromises, you'll love ARTISTRY SKIN NUTRITION!