From Hollywood stars to your next-door neighbour, many have been raving about sheet masks. Portraits of sheet mask fans wearing this beauty essential have taken over social media and new versions seem to pop up all the time. But what are sheet masks and should you add them to your skincare routine?
What are sheet masks?
Sheet masks are thin sheets of fabric conveniently shaped like a face with holes cut out for your eyes, nostrils and mouth, making them easy to use – just take them out of their packaging and put them on your face.

Where did sheet masks come from?
Sheet masks originated from Japan and South Korea but are now widely used all over the world. That's a lot of disposable fabric but thankfully, many sheet masks are now made using biodegradable materials that do not harm the environment and are safe and gentle on the skin.
How do sheet masks benefit the skin?
Soaked with concentrated serum, sheet masks give your skin a rush of hydration and nutrients thanks to ingredients like vitamins and phytonutrients. This makes sheet masks a great option for intense focus on one skin concern at a time. To address multiple concerns, you can use regular face masks or different sheet masks on different days.
Who should wear sheet masks?
Anyone in need of a quick hydration boost. You don't need a lot of time as sheet masks can be worn while going about your day. Read, cook, check your emails, anything – just don't mask and drive.


When should you wear sheet masks?
Sheet masks are best used at night so that the active ingredients can work while you sleep but you can use them any time of day. Keep them in the fridge first for a nice cooling effect.
Cleanse your face thoroughly (if you're exfoliating today, do it now).
Remove all remaining impurities with a toner. If you like, apply any additional serum you desire.
While your skin is still damp, cover it with the sheet mask and make sure it fits well (see Picture 2).
Smooth out air bubbles to ensure contact with your skin. Always smooth upwards for a lifting effect.
Relax for 15 minutes. In the meantime, you can massage any leftover serum from the packaging into your neck and chest.
Remove your sheet mask. Do not reuse it and do not wash your face immediately after use.
Gently massage the excess serum into your skin (see Picture 3).
Repeat weekly, twice a week or even daily.
Why is 15 minutes enough?
Too short a time and your skin will not have soaked up all the goodness from your sheet mask. But left on for too long, the sheet mask will start to dry up, taking all the hydration with it and leaving your skin dry. Do not allow the mask to dry on your face.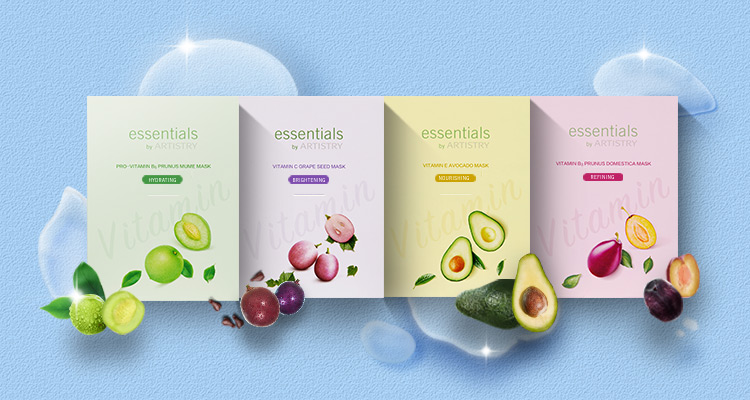 essentials by ARTISTRY Vitamin Sheet Masks
Containing the same Dendrobium Nobile Extract that made the original essentials by ARTISTRY Sheet Masks a hydrating success, the new Vitamin Sheet Masks are infused with a double essence of vitamins and phytonutrients to hydrate, refine, nourish and brighten your complexion.
There are 4 masks to choose from: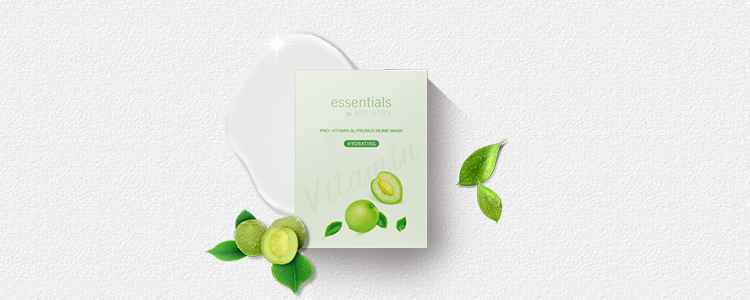 Pro-Vitamin B5 Prunus Mume Mask – Hydrating
Promotes skin renewal & strengthens moisture barrier
Prunus Mume Extract helps to improve the skin's metabolism
Pro-Vitamin B5 promotes skin renewal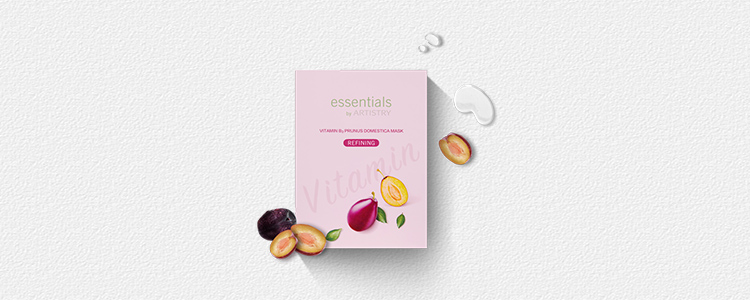 Vitamin B3 Prunus Domestica Mask – Refining
Increases skin metabolism & regenerates delicate skin
Prunus Domestica Extract helps to soothe the skin
Vitamin B3 enhances moisture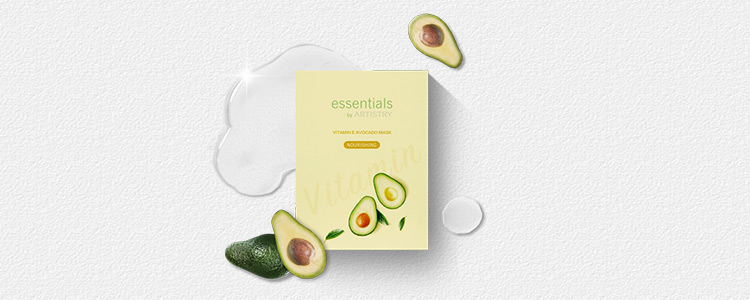 Vitamin E Avocado Mask – Nourishing
Nourishes skin & promotes a healthy complexion
Avocado Extract helps to lock in moisture
Vitamin E regenerates cells damaged by free radicals & promotes cell growth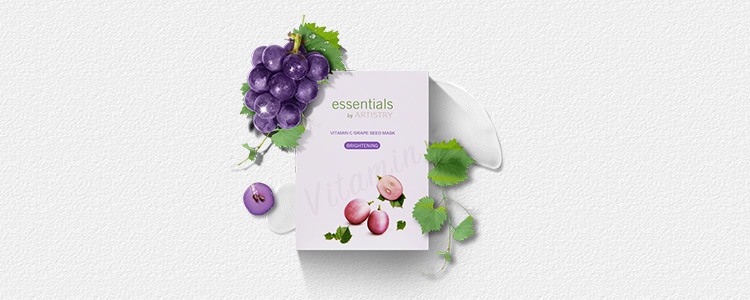 Vitamin C Grape Seed Mask – Brightening
Provides antioxidant protection & improves dullness
Grape Seed Extract provides antioxidant protection
Vitamin C brightens skin tone and improves skin texture
Give your skin a quick nourishing boost today!