Ketupat, satay, nasi lemak, rendang, nasi biryani, lemang - oh my, just hearing the words buka puasa and thinking of all the yummy food to come makes the mouth water.
It's undeniable that one of the favourite parts of Ramadan is the evening fast breaking with family and friends. Traditionally, one would also balik kampung to break fast with their parents and family at their hometown and enjoy home cooked delicacies whipped up by grandmothers, mothers and aunts. But, with the ongoing pandemic, travelling back to the hometown is not encouraged and it's indeed better for you and your loved ones to stay safe.
Nevertheless, it is still possible to have a meaningful celebration with your children, nearby family and friends. After all, a family who prays together and eats together, stays closely connected to each other.
While extravagant buffets and takeaway meals are usual highlights during the Ramadan month, change things up this year by going for the safer option of home-cooked meals. Cooking at home is not only safer, since the food is cooked hygienically, it's also healthier as you ensure that your family's nutritional needs are met with a balanced meal that is full of protein, vegetables and good fats.
But that doesn't mean that you have to slave over a hot stove and cook all day! With a little pre-planning and the Noxxa Electric Multifunction Pressure Cooker, even the toughest recipes can be made in a jiffy.
Speedy, Yummy & Healthy Meals With The Noxxa Electric Multifunction Pressure Cooker
The Noxxa Electric Multifunction Pressure Cooker is an indispensable aid in the kitchen. It allows you to cook a feast for the family with incredible ease with its slew of user-friendly features and functions.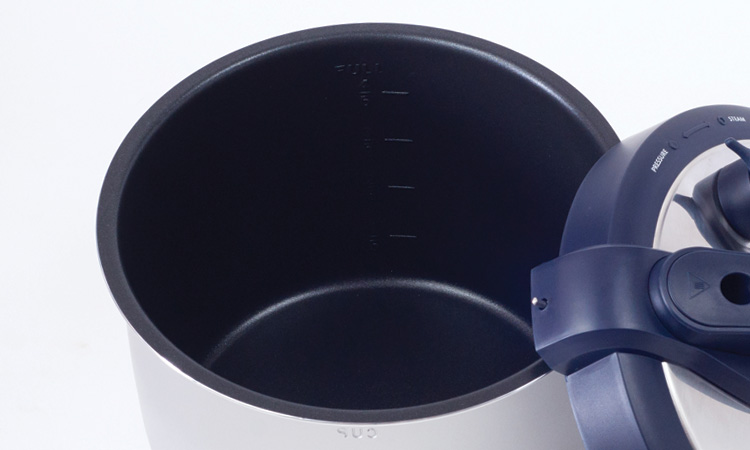 With an ample 8 litre capacity, you can make enough for the entire family at one go and have yummy leftovers to freeze and eat another day. What's more, if you've got a busy day ahead of you, meal prepping is a breeze with 3 customisable preset time and temperature settings that optimise the cooking of any dish to your liking. Just key in the settings you want and have a cooked meal that's ready to be dished out and served.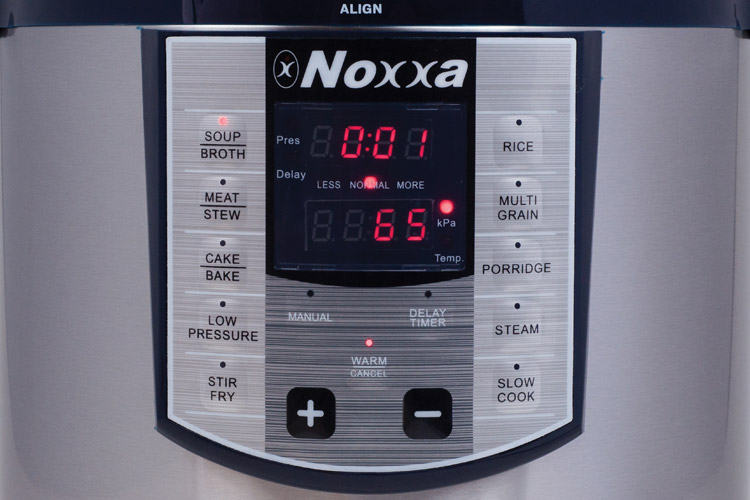 With no less than a whopping 10 cooking functions, this superb cookware can boil, stew, fry, slow and steam cook as well as bake cakes to give you perfectly cooked dishes which are sure to delight the whole family.
Its smart timer memory function is another useful feature which saves and recalls time and/or temperature settings, as its customisable "Keep Warm" function is great to keep food warm while you're entertaining a small group of friends.
At the end of the day, cleaning up is quick and easy. The removable non-stick inner pot is coated with food grade DUPONT Teflon Platinum that is recognised and used globally for high quality non-stick cookware, is easy to clean and comes with the added benefit of making sure that your cooking will remain healthy and nutritious.
Get your Noxxa Electric Multifunction Pressure Cooker here!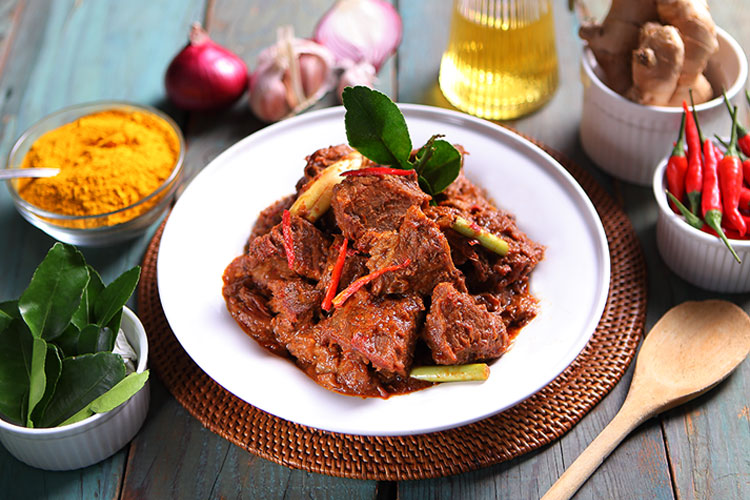 Fast & Easy Beef Rendang Recipe
Ingredients
10 cili padi (bird's eye chili) *
2 pieces turmeric leaves (finely chopped ½ piece for garnishing) *
(*) All materials blended
3 tablespoons chili paste
1 tablespoon turmeric powder
1 ½ cups thick coconut milk
2 tablespoons kerisik (fried coconut)
Method
Add all ingredients into the Pressure Cooker's inner pot.
Close the lid and turn the pressure regulator knob to PRESSURE.
Select MEAT/STEW function and set the time to 15 minutes by pressing the + or – buttons. Cooking will automatically start after 4 seconds. When time is up, press the CANCEL button and release the pressure by turning the regulator knob to STEAM.
Open the lid carefully and stir well. Ready to be served with steamed rice.