Good skincare is vital to maintain a youthful appearance. Taking the time to provide your skin with the nutrition and hydration it needs can prevent issues like early wrinkles, fine lines, dark spots and sagging. With ARTISTRY's latest anti-ageing range, you can delay the effects of time on your skin!

ARTISTRY SKIN NUTRITION Renewing and Firming Solutions
Backed by years of scientific research and the benefits of Nutrilite ingredients such as White Chia Seed, the ARTISTRY SKIN NUTRITION Renewing and Firming Solutions nourish your skin and address the 5 Key Skin Nutritional Requirements:
Purify
Balance
Rebuild
Moisturise
Protect

As part of our continuous effort of creating sustainable, environmentally friendly products, rest assured these products are also certified vegan, paraben-free, and made with no animal testing.
In addition to Nutrilite Pomegranate for antioxidant protection against free radical damage, both the Renewing and Firming Solutions are powered by the Repair Complex – a blend of Nutrilite-grown Spinach, Turmeric and Tea Olive Flower to restore skin's youthful condition by 600% (ex vivo testing).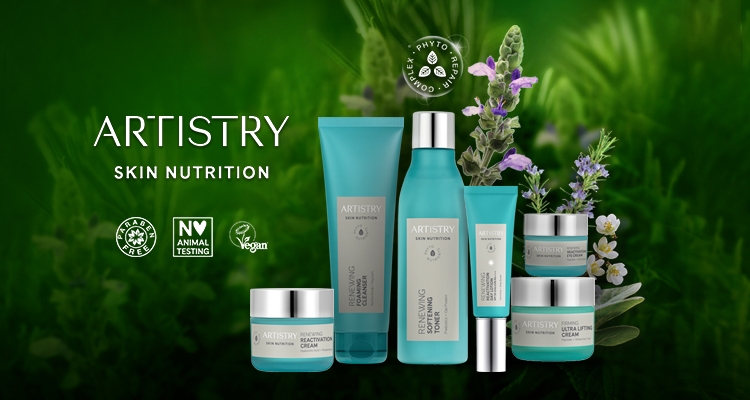 Caring for dry mature skin
The Renewing Solution consists of a cleanser, toner, eye cream, moisturiser and two SPF 30 formulas (choose between a lotion for oily skin or a cream for dry skin), while the Firming Solution is a moisturiser that can be used with the other products from the Renewing range: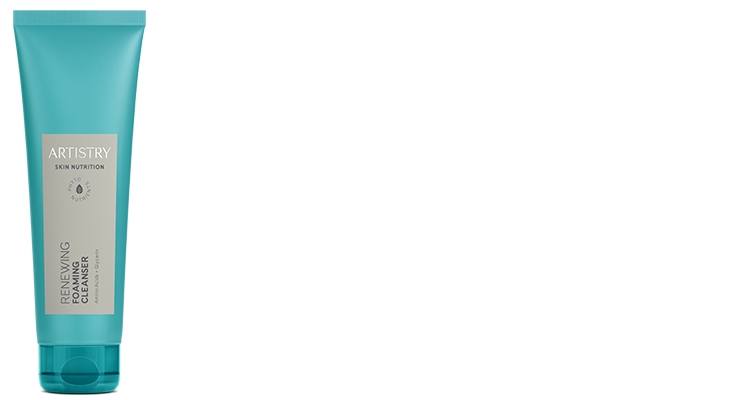 Renewing Foaming Cleanser
Featuring a patented blend of Shiso Perilla and Aloe Vera, this foaming cleanser is designed to remove impurities like dirt and pollution from your skin without compromising your skin microbiome
Non-stripping, non-drying, soap-free formulation keeps your skin's pH balanced
Clinically and dermatologist-tested
Gentle and mild formula makes this cleanser ideal for sensitive skin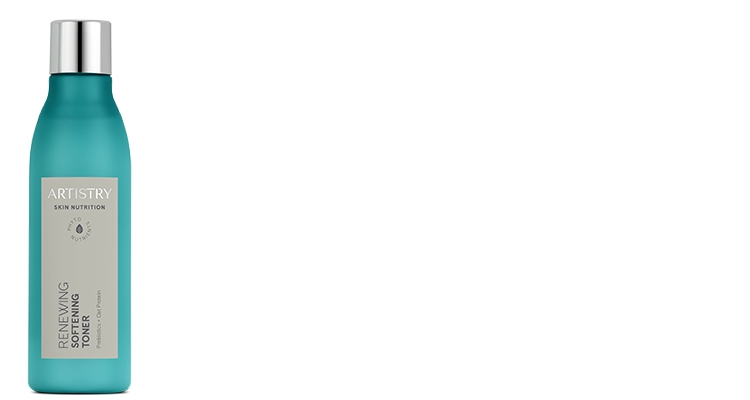 Renewing Softening Toner
Milky emulsion stabilises and nurtures skin microbiome
Calms, soothes and softens irritated/inflamed skin
White Chia Seed Gel hydrates and strengthens skin barrier for a dewy complexion
Non-drying and non-comedogenic formula ideal for sensitive skin

Renewing Reactivation Eye Cream
Reduces visible signs of ageing like crow's feet, wrinkles and laugh lines
Tones down puffiness and dark circles
Nutrilite Pomegranate protects skin with powerful antioxidant properties
Fragrance-free and safe for contact lens users

Renewing Reactivation Cream
Jumpstarts your skin's natural healing process
Supercharges moisture levels to reduce lines, wrinkles, and other visible signs of ageing
Rosemary extract strengthens barrier against irritation caused by pollution and debris
Minimises and tightens pores for younger-looking, supple skin

Renewing Reactivation Day Cream SPF 30
Rich cream provides light and pollution protection with broad spectrum SPF 30
Visibly reduces existing damage to your skin and restores skin healing
Protects against oxidative free radicals and pollutants for healthier skin
White Chia Seed and Shea Butter nourish dry skin and soften its texture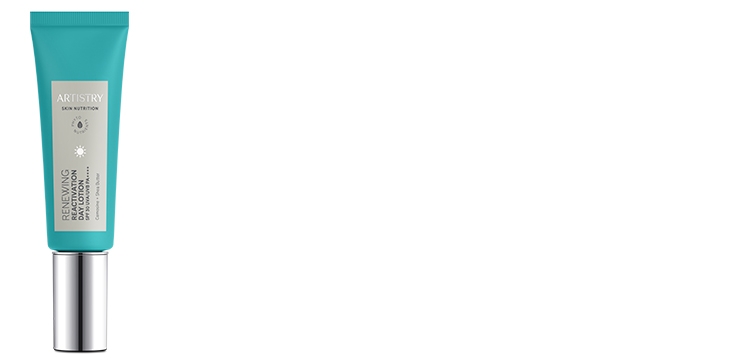 Renewing Reactivation Day Lotion SPF 30
Broad spectrum SPF 30 protects against UVA and UVB sun damage
Super light moisturising formula that is great for oily skin
Nutrilite-grown Pomegranate guards against damaging pollution
Carnosine reduces damage caused by exposure to blue light and infrared light

Firming Ultra Lifting Cream
Our most comprehensive and advanced anti-ageing formula
Silvervine Fruit extract restores dull aged complexions
Effectively lifts and firms up sagging skin
Reduces deep-set wrinkles, expression lines and discolouration
We also have two new makeup removers joining the ARTISTRY SKIN NUTRITION Micellar Makeup Remover + Cleanser that was launched in March:
Cream Makeup Remover
Makeup Remover + Cleansing Oil
Stay tuned for our article on makeup removers next week!
Ready to rejuvenate your skin? Shop the range at Amway.my