It is tough trying to stay fit as a parent. A lot of people think it's enough exercise running after your kids but the truth is chasing children in short bursts is insufficient for a full 30 minutes of cardio and in terms of strength training, you need to make sure you target all muscles in every part of your body.
So, if you can't send your kids to a babysitter while you work out, why not let them help you exercise instead? It's a great way to bond with your children and it teaches them to lead a healthy lifestyle too. Here, Nik M Rabbani from XS Force (and his adorable 10kg baby) shows us how.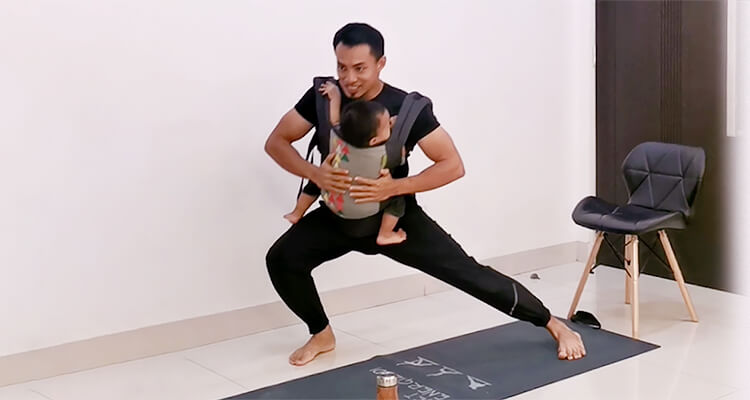 First and foremost, take the time to do a proper warm-up. Do not rush through your warm-up or you will risk injury. Listen to your body and stop if you need to. Always consult your doctor before you start any exercise programme. Finally, cool down when you are done.
Perform each exercise for 45 seconds. Rest for 15 seconds between exercises.
Butt Kick Side to Side


Squats


Side Lunges
Bulgarian Split Squats (left leg front)


Bulgarian Split Squats (right leg front)
Chair Dips (repeat 2x)


Deadlifts (repeat 2x)
Military Press (repeat 2x)
Rest for 60 seconds and repeat the entire circuit 3-4 times.
And you're done! Time to cool down and enjoy some XS Mixed Whey Protein With Chocolate Flavour to help your muscles recover and grow. Love its awesome blend of branched chain amino acids (BCAA), chia seed powder, spirulina powder and 30g of protein per serving. Make no mistake, it's definitely as nutritious as it is delicious.
As always, do keep your body healthy and strong with a nutritious diet to help prevent excess weight gain and maintain weight loss. This is also good to improve overall physical and mental health, and provide energy for workouts.
The best way to do this? Eat regularly on time and get your nutrients from all the major food groups. Add supplements to your daily regime to fill any remaining nutritional gaps.
Start your healthy eating journey now! Read our nutrition and wellness articles here for delicious and easy ideas.