Do You Suffer From One Or Several Of These Problems?
Dull Skin
Brittle Nails
Thin & Lacklustre Hair
Poor Gut Digestion
Weak Joints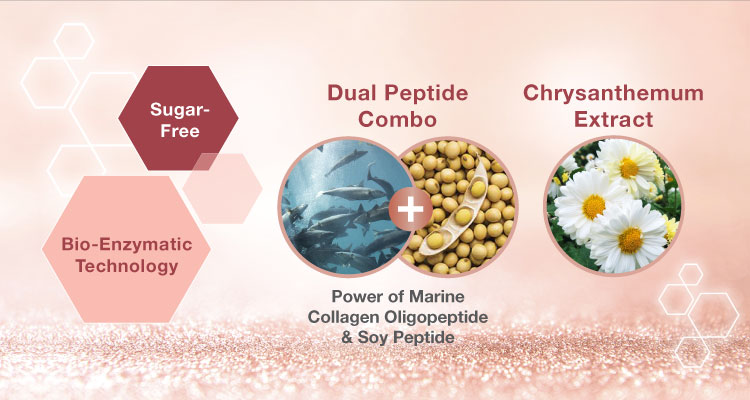 If the Answer is Yes, then you need to Protect Your Skin and Nourish your Body with:
Collagen Peptide + Peptide (Dual Peptide)
Promotes synthesis of Skin Collagen and Hyaluronic Acid (HA) (HA is a substance that occurs naturally in the skin, eyes and joints. Its primary function is to trap water inside tissue cells, keeping the eyes moist and the joints lubricated)
Reduces Skin Damage
Supports Skin Cell Regeneration
Improves Skin Elasticity and Hydration
Chrysanthemum Extract
UV Shield – Protection Against Sunlight
Antioxidant Boost
Improves Corneal Moisture to Relieve Tiredness in Eyes
But what are Collagen, Peptides and Collagen Peptides?
Collagen – Making up for 75%-80% of your skin protein, we all need collagen for a healthy and nourished skin. Collagen is a major building block for skin, bones and even your blood vessels.
Peptides – Made up of short strings of amino acids (which are also the building blocks for protein and collagen), it stimulates the production of melanin, a skin pigment, which may improve the skin's protection against sun damage. Research has suggested that peptides have a beneficial role in slowing down the ageing process, reducing inflammation and destroying microbes.
Collagen alone, in its full-length form, is difficult to break down during digestion and too large to cross the intestinal wall. Collagen peptides, which are derived after breaking down full-length collagen molecules, are generally more bioavailable – they are better absorbed into the bloodstream because they are much shorter chains of amino acids than collagen.
In a Nutshell, we may just have the solution in a drink that:
is in ready-to-drink sachets
is sugar free
contains Dual Peptide benefits (Collagen Peptide + Peptide)
has Chrysanthemum extract
is made via Bio-enzymatic technology. The technology breaks ingredients in smaller molecules. This allows the ingredients to be better absorbed by the body so that you get your nutrients faster and in a more efficient manner!
Click here to read.