From a small fishing village and market town, Shanghai has grown into an amazing city pulsing with international commerce and innovative technology that's hard to beat.
Taking inspiration from the city's diversity, the ARTISTRY STUDIO Shanghai Edition comes with a wide range of brilliant colours and delightful textures to create various makeup looks. What are you waiting for? Let's get started!
Modern Glow Look
Shanghai may be filled with classical architecture and historical landmarks but make no mistake, the city is all about progress. Similarly, a more subtle makeup look doesn't mean a woman hasn't got tricks up her sleeve. Keep the focus on glowing skin with delicate touches on the eyes and shine on.
Be transformed with a look that captures the mystical beauty of Shanghai, from the nonstop glow of the Primer to the shimmery highlights and unexpected blue of the Shanghai Starlight Pop Trio. And of course, the opulent finish of the lips drenched in the perfect red.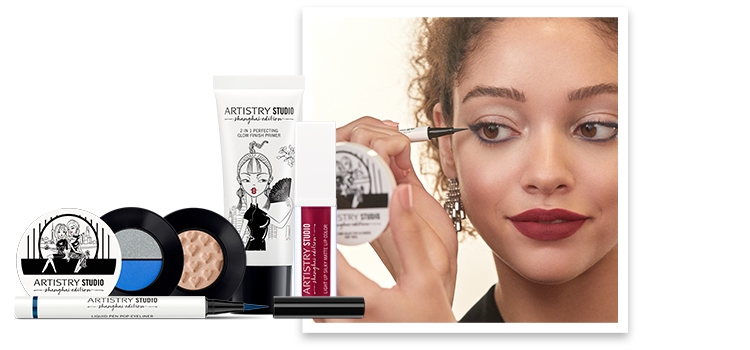 Face
Firstly, apply the 2-in-1 Perfecting Glow Finish Primer evenly onto your face and neck.

Eyes & Cheeks
Use the Soft and Silky Eye & Cheek Pop Trio in Shanghai Starlight on your eyes and cheeks. Sweep the grey eyeshadow across the entire eyelid and the blue shade under the eye line. Brush the cheek colour onto the apples of your cheeks.

Liner
Make your eyes pop with the Liquid Pen Pop Eyeliner in Silk Sapphire. Draw the eyeliner evenly along both the upper and lower lash lines and just outside the corners of your eyes for a winged effect.

Lips
Line and fill in your lips with the Light Up Silky Matte Lip Color in Rose Red, building on the colour to your desired intensity.

Stay tuned for more ARTISTRY makeup looks!