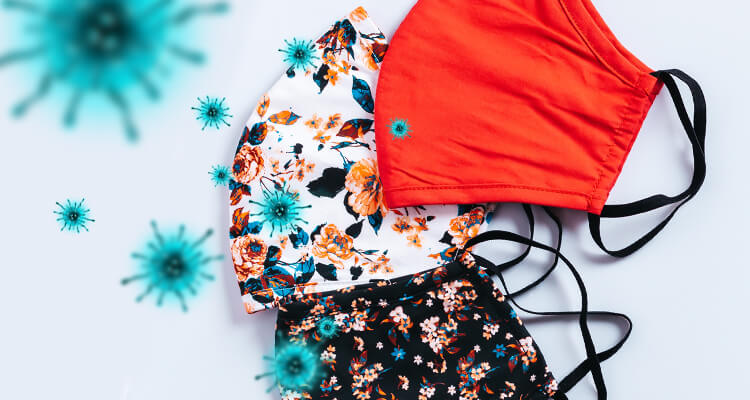 Adjusting to the New Normal
With the current pandemic, it is no surprise that wearing a face mask when outdoors has become just as necessary, and fashionable, as a smartphone in our daily lives. In the new normal of current times, this lifesaving accessory is a crucial part of blocking the spread of disease.
While some people choose to wear disposable masks, most of us have opted for the more wallet-friendly alternative of wearing reusable masks. Not only are reusable masks more economically viable but they are made from breathable fabric and are more comfortable on the skin.
However, they do come with one drawback — reusable masks need to be washed frequently.

Why do you need to wash your reusable mask?
Reusable face masks trap germs and bacteria from the outside air and prevents them from entering our respiratory system. If the mask itself is contaminated, it could be a potential breeding ground for germs. Though some new reusable face masks boast features like 'antibacterial' fabric, it is still highly recommended that you wash them as you would any other piece of clothing that you use regularly.
Since the mask touches your nose and mouth, the viral particles and germs may find their way into your system. Or it could end up on the surfaces in your home, making it a carrier for the same germs we are trying to avoid.
Therefore, it is most ideal for you to own two masks so that you can wash your reusable masks daily.

But here's the catch — how often do you actually remember to wash your masks?
It is a good hygiene practice to wash your face mask regularly for the same reason we regularly wash our clothes and hands. It keeps viruses and germs at bay!
If you can't wash your mask every day, try to do so every two days at least. That way you'll have time to wash and dry one mask while using the other.
Another strong reason to deodorize your face mask is for social reasons. The strong smells of your nasi lemak lunch may linger on the fabric of the mask. Those odours may make you, and others around you, feel uncomfortable. So, regularly washing reusable masks in the machine sanitises and deodorises them.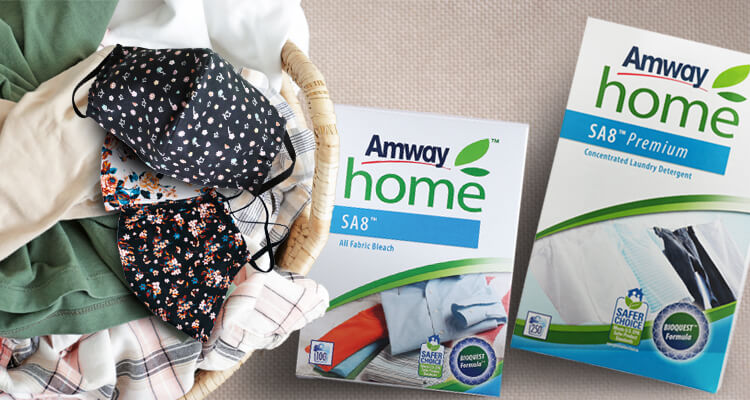 Wash Away Germs and Odours With SA8 Premium Concentrated Laundry Detergent
Amway Home's SA8 Premium Concentrated Laundry Detergent is a cleaning pro. Specially powered by the BIOQUEST formula, it contains ingredients from natural resources like coconut, citrus fruits and minerals. It also contains a patented stain fighting formula containing effervescent crystals to effectively remove multiple layers of dirt and grime. This biodegradable formula has also been dermatologically tested to be gentle on sensitive skin.
Sanitise and deodorise your masks with its delightful gentle fragrance and natural plant-based softener. Available in a concentrated liquid or powder formulation, it provides an effective clean at all temperatures while needing less detergent per wash. Its unique formulation is made with no harsh chemicals that might post a health risk to you and your loved ones.
Boost the effectiveness of this detergent with SA8 All Fabric Bleach that cleans with active oxygen bleach. Give your face masks a deep clean that penetrates through even the most stubborn stain. You just need 10ml per 5kg of laundry. Talk about a powerful clean while staying green!
Masks are the first line of protection against viruses and germs, so fortify your family's defence against outside germs and sickness with these Amway Home SA8 cleaning products. Don't just stop there — keep your family at home with our range of Amway Home Care surface cleaning products such as the PURSUE Disinfectant Cleaner One Step.Stay safe and clean on-the-go with PURSUE Hand Sanitizer.