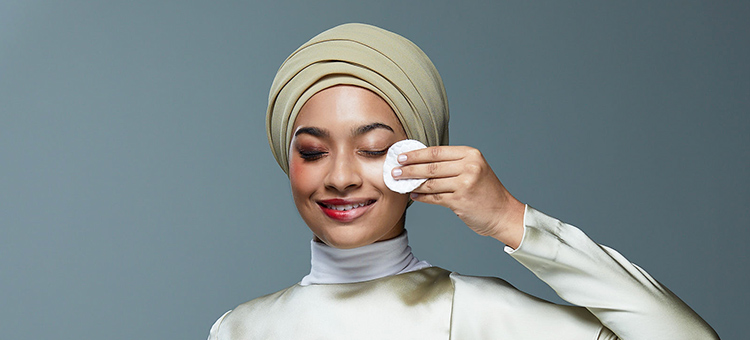 Equally important as using the right makeup and tools to help you put on a pretty face is using the right skincare products to take off that pretty face at the end of the day. In terms of options, we've come a long way from cold cream, but do you know which makeup remover is right for you?
Just like personalities, skin types are unique and vary from person to person. Like your moisturisers and makeup shades, the makeup remover you use is most effective when it matches your skin's needs. The market offers various types of makeup removers, and here are some of the most popular choices:

MICELLAR WATER
One of the latest trends out there, micellar water gets its name from its contents of micelles. Micelles are spherical chemical structures known for their cleansing and moisturising properties. Micellar water removes dirt and oil particles from the surface of the skin without dehydrating and clogging pores.
Light in texture, this is a great choice for those preferring a water-based remover, which is most ideal for those with sensitive skin.
Best for Oily, Normal to Oily, or Normal to Dry skin.
Recommended to remove light makeup:
ARTISTRY SKIN NUTRITION Micellar Makeup Remover + Cleanser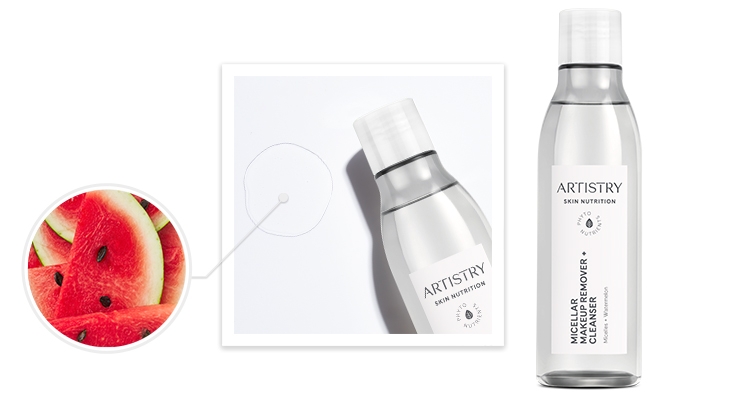 This dual-based formula is quick and easy to use. It requires no rinsing, making it a very convenient choice and has Watermelon Extract to protect skin from free radical damage.
CREAM FORMULA
We've all seen this sitting on our mothers' dressing tables. Cold creams have a long history of being the go-to solution for makeup removal and moisturising. Some of the earliest forms of cold cream can even be traced back to Ancient Greece! Today, it remains a popular choice to remove daily makeup.
Cream makeup removers are traditionally preferred due to their cleansing abilities, combined with their natural hydration. Many opt for rich cream cleansers to reduce moisture loss in their skin, which in turn prevents wrinkles, fine lines, and tight, uncomfortable dry skin. However, cream removers are not always ideal for oily or acne-prone skin.
Best for Normal to Dry or Dry skin.
Recommended to remove daily makeup:
ARTISTRY SKIN NUTRITION Cream Makeup Remover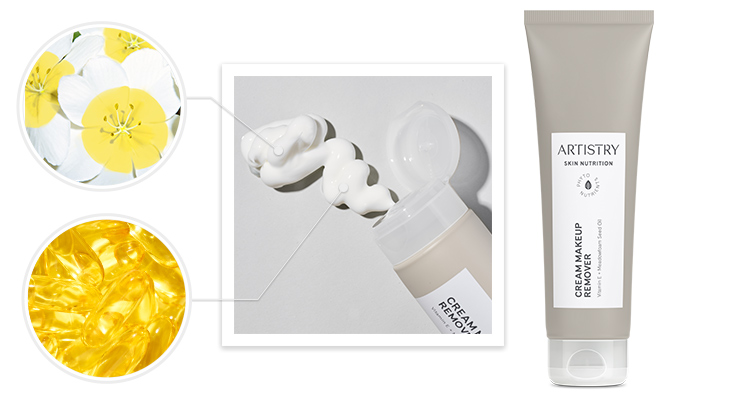 This gentle and non-drying cream is a delight to smooth on and easily removes makeup, leaving the skin clean, soft and supple. We love the addition of nourishing Meadowfoam Seed Oil and protective Vitamin E too.
CLEANSING OIL
Cleansing oils feature a cleansing ingredient called a surfactant, which is also found in other oil-based cleansers. Surfactants remove dirt from the skin without damaging the skin barrier, which makes it an ideal choice for dry or sensitive skin.
Luxurious and silky soft on the skin, cleansing oils are much loved as makeup removers. Little surprise as oil-based cleansers are very effective for removing heavy makeup. Be sure to exfoliate and wash your face often to prevent clogged pores.
Best for Dry to Very Dry skin.
Recommended to remove heavy makeup:
ARTISTRY SKIN NUTRITION Makeup Remover + Cleansing Oil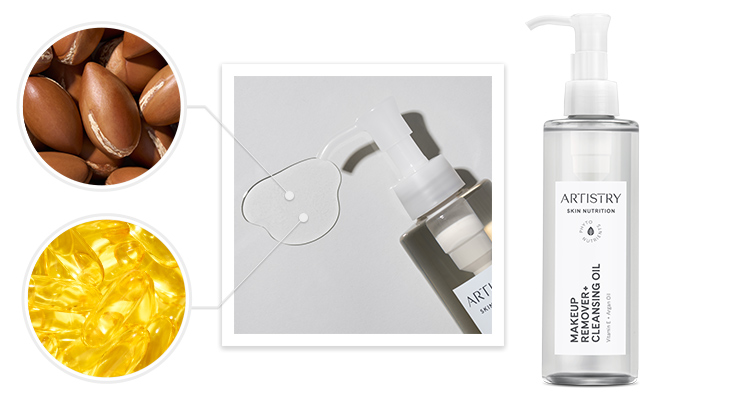 This sophisticated cleansing oil transforms into a milky emulsion that melts away makeup. It also contains Argan Oil to condition the skin and Vitamin E for antioxidant protection.
Regardless which type of makeup remover you use, it is always important that you double cleanse.

What is double cleansing?
Double cleansing is as straightforward as it sounds. Cleansing your skin twice – first with a makeup remover and second with a facial cleanser – in order to ensure that all dirt and residue are thoroughly removed. Though not all skin types need double cleansing, some skin types benefit from this.
The two skin types that would benefit most from double cleansing are oily and acne-prone skin.
People who wear heavy makeup on a regular basis also do well with double cleansing, as it prevents debris build-up and removes bacteria from the skin.

Why double cleanse?
Double cleansing keeps your skin clean and healthy. Over time, it improves the complexion, reduces acne breakouts, and retains skin elasticity.
Good thing ARTISTRY SKIN NUTRITION has a range of makeup removers to suit everyone!
Keep your skin healthy with ARTISTRY SKIN NUTRITION.
Shop the range at Amway.my