From near and far, by land or sky, the season of family reunions is upon us. How has the family changed? What will we talk about? Maybe somebody has taken up a change of career to pursue their passion for food, or perhaps there will be a new addition to the family!

Speaking of which, what would be the perfect gift for them? How can you express the love and care you feel for each precious member of the family after all these years?
You may not be able to care for your loved ones at every moment, but you can give them the most fundamental gift: Water.
Nothing beats clean mineralised water for drinking, lovingly filled into water bottles for them to keep themselves hydrated throughout the day. Imagine them being refreshed and energised after every meal, no sweetener required, and to further sweeten the deal, with no harmful microbes or particles.
After getting sweaty on the field or off the court, replenish them with water which is so essential for rehydrating the body and staying healthy. After all, an active lifestyle is best supplemented by clean water with vital minerals retained.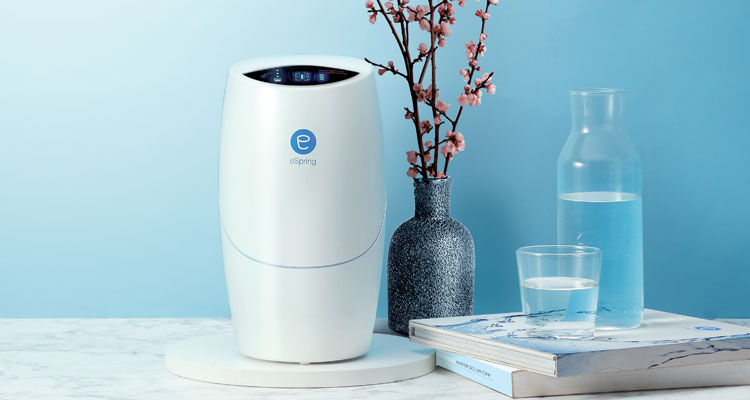 The Source Of Clean, Mineralised Water
How can we get clean, mineralised water with just a turn of the tap? The eSpring Water Treatment System can provide exactly that.
It features a Carbon Filter that effectively removes up to 140 potential health-effect impurities such as pesticides, mercury and lead. It even has a UV Lamp that kills 99.99% of bacteria and viruses, without the use of harmful chemicals.
Although it effectively removes contaminants, the eSpring Water Treatment System also allows beneficial minerals to pass through. This is crucial for the elderly and growing children, who need important nutrients such as calcium and magnesium to stay healthy.
While its convenience is undeniable, the technology behind the eSpring Water Treatment System is what really makes it stand out. Its eCoupled wireless power technology transmits electricity through air, water and plastic components without direct electrical contact.
In addition, there is a "Smart Chip" that connects to the system's LED monitor display. It uses simple icons and audio cues to tell you whether the system is functioning properly and alerts you when it is time to change the Cartridge.
So go ahead and choose a filter based on proven technology for the health and safety of your family like the eSpring Water Treatment System. It is certified by NSF International and has earned the Gold Seal from the Water Quality Association.
Best of all, each filter is good for more than one year's supply of clean water for a family of 4 to stay healthy and active. After all, a water treatment system that is fuss free in terms of maintenance simply means more time for you to create joyous memories with loved ones during the festive season.