Kampung Fried Rice
(Philips Food Processor 7000 Series)
As Asians, we all sure do love our rice and its evident by the number of food items on a menu that contains rice (who can forget Uncle Roger and his 'fly rice'). After all, Malaysia's national dish is unofficially 'Nasi Lemak'. This time around, we thought it would be nice to have you getting a little rustic with the ingredients for a Kampung Fried Rice. Have it for breakfast, lunch or dinner and you'll surely not be disappointed.
Tip: Use cold, leftover cooked rice. Left in the fridge overnight, the rice grains will firm up, making it easier to separate and decreasing the chances of your kampung fried rice turning out mushy.
Serving size: 8 pax
Preparation time: 2 minutes
Cooking time: 10 minutes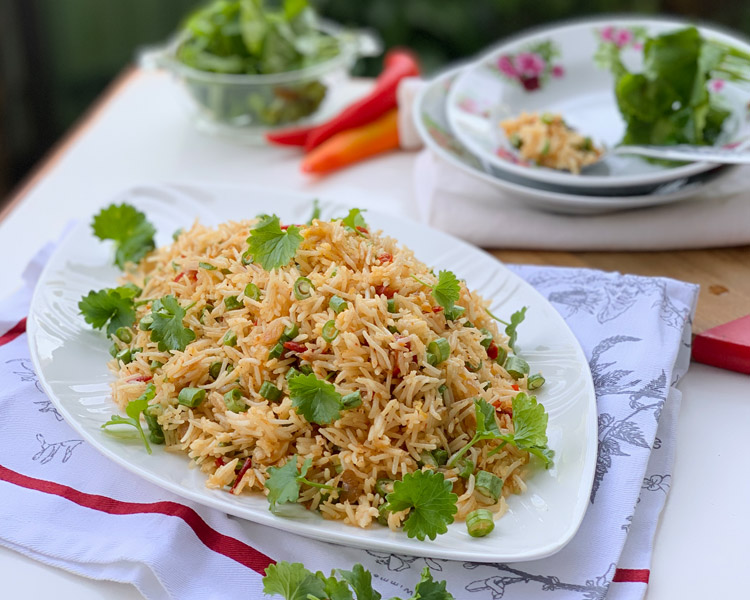 Ingredients
2 red onions
6 cloves garlic
3 tablespoon dried shrimp, soaked in hot water and toss dry
8 red chilli, removed seeds
5 birds eye chilli (cili padi)
3 tablespoon vegetable oil
2 teaspoon salt
3 cups rice, cooked
2 eggs
200g long beans, with the ends removed
100g pegaga leaves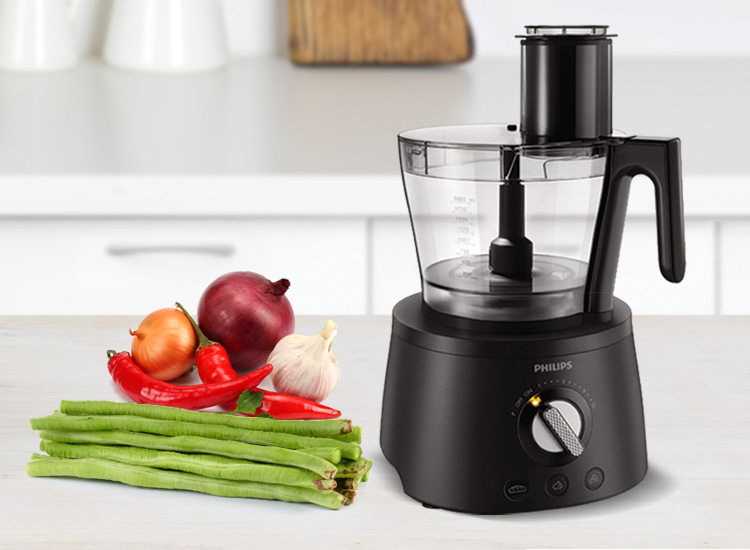 Method
Insert red onions, garlic, dried shrimp, red chilli & birds eye chilli into Philips Food Processor 7000 Series. Chop the ingredients using the chopping blade for 8 seconds or until you achieve the desired size.
Pour vegetable oil into frying pan and heat up on the stove using a mid-high flame.
Pour the chopped ingredients into the frying pan, fry until fragrant.
Add in rice, and fry evenly.
Add salt and mix evenly with rice.
Lower the flame and move the rice to one side of the frying pan, add eggs into the frying pan.
Stir the eggs only after 1 minute, or when the eggs are half-cooked.
While waiting, fix the slicing blade into the Philips Food Processor 7000 Series. Cut the long beans in two, or less than 6 inches long. Insert the long beans into the funnel and push it into the food processor using the pusher to slice the long beans.
Pour the sliced long beans into the rice and fry together with the eggs until the long beans are cooked.
Portion the fried rice into the plate and serve together with pegaga leaves.
Buy the
Philips Food Processor 7000 Series