How to Maintain Your eSpring – Cleaning & Status Indication
Like all other tech in your home, your water purifier system needs a seeing-to on a regular basis. Here's a step-by-step guide of how to maintain your eSpring.
Cleaning the Diverter
To keep your eSpring tap diverter clean at all times, dismantle it for cleaning periodically.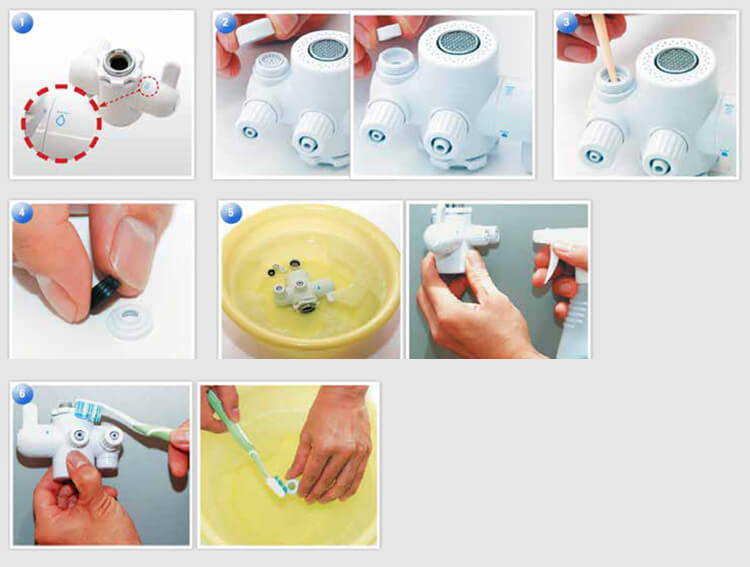 Step 1: Rotate the diverter to 'Treated' Mode. Remove the diverter and twin tubing.
Step 2: Remove the cap and collimator from the treated water port. A buildup of crystallised minerals is normal here.
Step 3: Using the tip of a toothpick, remove the gasket support from the treated water port.
Step 4: Separate the black and white gaskets.
Step 5: Mix 40ml of DISH DROPS Concentrated Dishwashing Liquid with warm water to make into a 1L solution. Soak all parts in this solution for 20 minutes.
Step 6: Use a toothbrush to clean difficult areas.
Step 7: Rinse well with water.
Step 8: Repeat all steps until the desired results are achieved before replacing everything into their original positions.
Status Indications & What They Mean

What it means: Your eSpring is working properly

What it means: The filter cartridge is not recognised or not properly installed. Reinstall your eSpring filter cartridge to resolve this issue.

What it means: Your eSpring filter cartridge needs to be changed.

What it means: Your eSpring unit may be faulty.

What it means: Your eSpring's electronic display may be faulty.

What it means: Your eSpring has no power supply. Please plug in the power supply.
Still have more questions about the eSpring Water Treatment System? Check out our FAQ here!
---
---