Always full of surprises, Shanghai is an incredible city with a unique mix of modern and traditional. Something about its towering skyscrapers, European architecture and quaint streets and alleyways constantly leaves people wanting more.
Taking inspiration from the city's diversity, the ARTISTRY STUDIO Shanghai Edition comes with a wide range of brilliant colours and delightful textures to create various makeup looks. What are you waiting for? Let's get started!

Red Hot Look
A confident woman is a force to be reckoned with, and it shows in her makeup too. If you see a woman in bright red lipstick and strongly defined eyes, you know she's not afraid of anything and is eager to explore – starting with the buzzy metropolis of Shanghai, of course.
Fortune favours the bold with this updated take on red. Lips are in the spotlight, of course, dressed in your best scarlet shade. Eyes are lined in Slate, softening the intensity but never the allure. Cheeks have a peek of illumination, primed and set to glow.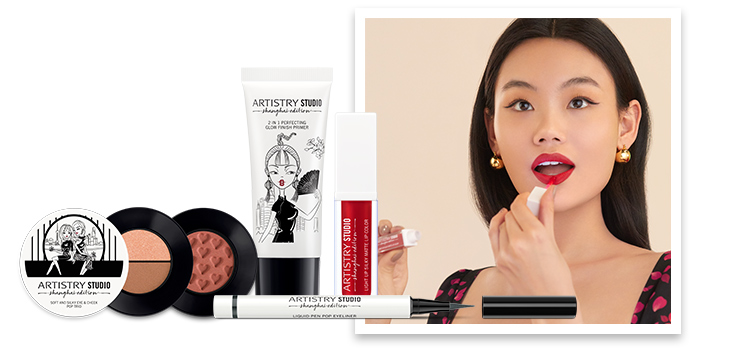 Face
Firstly, apply the 2-in-1 Perfecting Glow Finish Primer evenly onto your face and neck.

Eyes & Cheeks
Use the Soft and Silky Eye & Cheek Pop Trio in Shanghai Nudes on your eyes and cheeks. Blend both the lighter and darker eyeshadow shades across the entire eyelid. Brush the cheek colour onto the apples of your cheeks.

Liner
Define your eyes with the Liquid Pen Pop Eyeliner in Silk Slate. Draw the eyeliner evenly along both the upper and lower lash lines.

Lips
Line and fill in your lips with the Light Up Silky Matte Lip Color in Spice Red. Blot your lips and reapply for longer lasting colour.

Look out for our next ARTISTRY STUDIO Shanghai Edition makeup look!