For all parents, it is a joy to witness their beloved children's development in school. The excitement and pride you feel each time they bring home an excellent report card, beautiful painting, finely crafted woodwork or shiny trophy is immeasurable and truly rewarding.
Not that we can say the same about other things they are bound to bring home from school, like grass stains on sportswear, white shirts marked with spilled lunch and of course, muddy shoes. Not to mention: So. Much. Sweat.
Luckily, the complete SA8 range makes laundry a breeze so you can focus on happy days with your kids, year after year.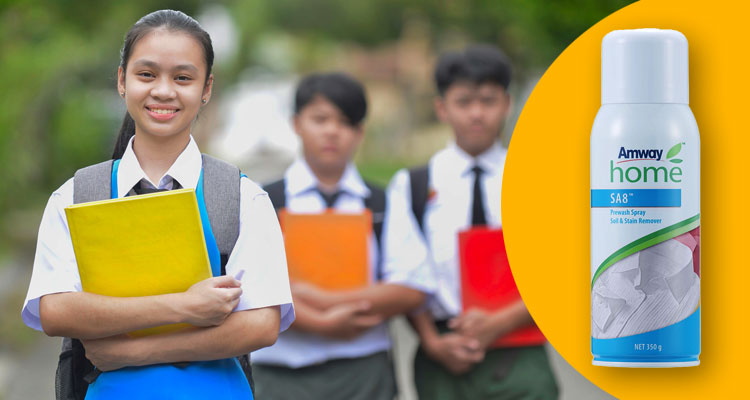 SA8 PreWash Spray Soil & Stain Remover
Start by targeting problem areas such as the yellowing collars, cuffs and underarm areas of school uniforms. Just a quick spritz of the SA8 PreWash Spray Soil & Stain Remover gets rid of stubborn stains so you don't waste precious time soaking and scrubbing – it takes only a minute to penetrate the fabric and do the dirty work for you. Environmentally friendly, it is also safe for any washable colourfast fabric.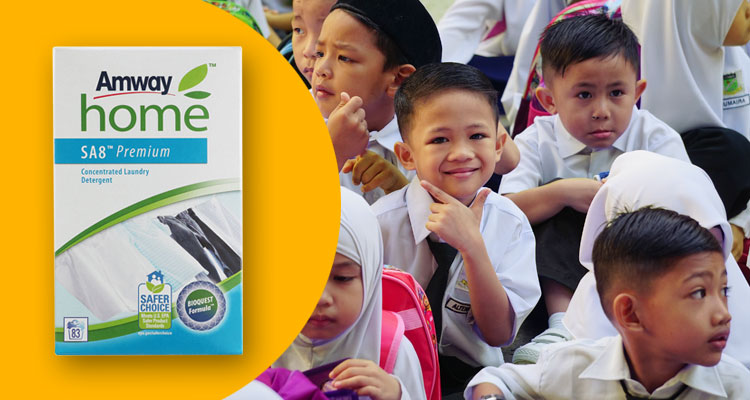 SA8 Premium Concentrated Laundry Detergent
Recently upgraded with an enhanced formulation and new ingredients, expect even more powerful cleaning action from the SA8 Premium Concentrated Laundry Detergent. Its improved stain-removing technology instantly attacks tough stains without fading so your children's school uniforms stay as bright as their future. Also, the effervescing crystals are super gentle yet effective thanks to better dissolving action regardless of water temperature.
In addition, the corrosion inhibitor protects metal zips, hooks and buttons from rust (no rust stains here). Oh, and did we mention that the biodegradable formula is dermatologist and allergy-tested? Perfect for your children's younger, more delicate skin.
Also available in a Twin Pack at 5% off for greater value.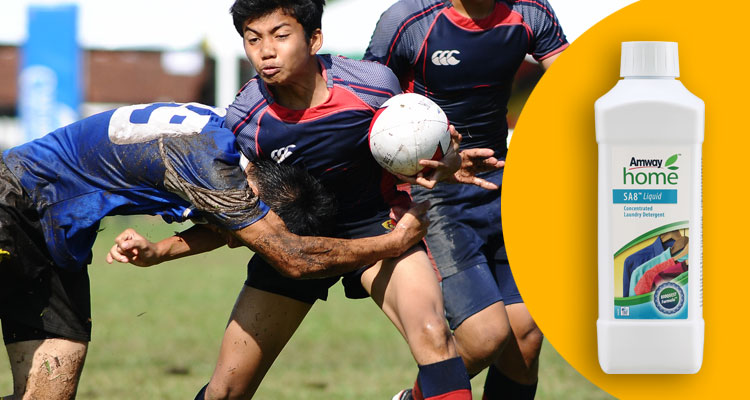 SA8 Liquid Concentrated Laundry Detergent
Quick and low-temperature washes call for a liquid formula that dissolves fast. Fully soluble, the SA8 Liquid Concentrated Laundry Detergent rinses easily to leave no unwanted residue or film. This ensures the longevity of clothes and greater colour stability, making it an excellent choice for school uniforms and shoes that require daily washing. Regular evening football matches with friends? Bring it on.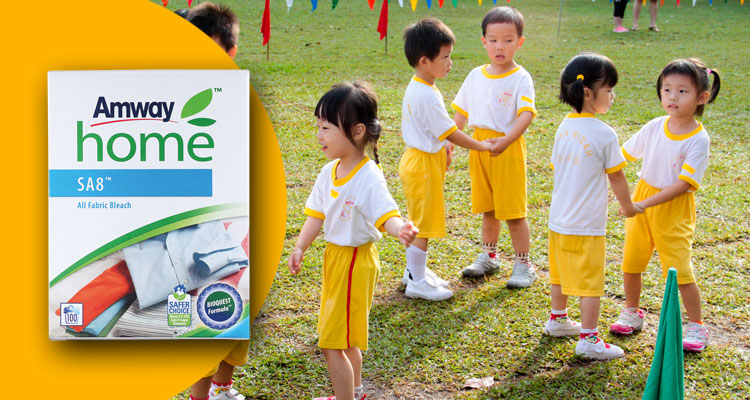 School uniforms may vary in colour but white shirts are a must everywhere. Keep these white as snow by adding a booster to your wash, which helps increase the effectiveness of your detergent. Formulated with active oxygen and free from chlorine and phosphate, even deep stains (think chocolate drinks and oily curry) can't win a fight against the SA8 Fabric Bleach. Ditto for dirty school shoes that have seen too many games of hopscotch.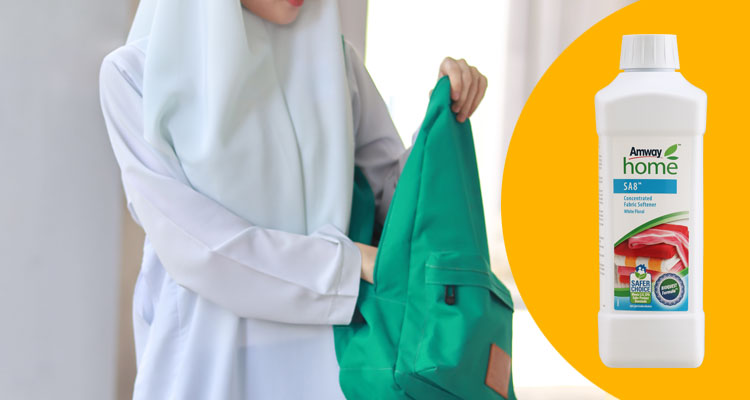 SA8 Concentrated Fabric Softener
For the final touch, leave your children's school uniforms as soft and comforting as your warm and loving hugs. The SA8 Concentrated Fabric Softener is specially formulated to restore that fluffy feel to fabric, keeping it in good condition for years to come. Made with naturally derived ingredients and no harsh chemicals, it safely minimises fabric wear while reducing wrinkles and static cling – hooray!
Shop the range at Amway.my