According to the World Health Organization, the year 2020 saw 2.3 million women across the globe diagnosed with breast cancer. In Malaysia, breast cancer is the most common form of cancer with about one in 19 women affected.
October is Breast Cancer Awareness Month, in which caring communities from around the world show their support by educating the public, raising funds for cancer charities and assisting those affected by the disease. Let's take a closer look at this issue:
What is breast cancer and what causes it?
There are more than a hundred types of cancer. Breast cancer is one type that starts in the breast when the cells there begin to grow out of control. These cells then form tumours that can be cancerous.
It remains uncertain as to what exactly causes cancer but there are many risk factors that can lead to a higher chance of developing cancer. These include varying hormone levels and lifestyle choices such as smoking, drinking, lack of exercise and unbalanced diets that are high in fat and sugar.
Therefore, it is important to live each day healthily to reduce your risk of developing cancer:
Eat a balanced diet low in fat and sugar
Consume plenty of fresh fruits and vegetables
Drink plenty of water
Avoid alcohol as well as cigarettes
Exercise for at least 30 minutes three times a week
Reduce exposure to chemicals in body care
On the subject of chemicals, several studies have shown that parabens can affect the mechanisms of normal breast cells and potentially influence their abnormal growth, leading to increased risk for breast cancer (increased cell growth).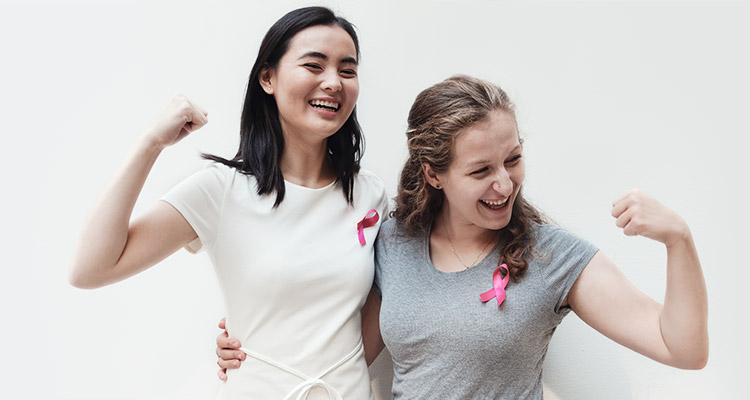 Early detection is important
Apart from maintaining a healthy lifestyle, women of every age should regularly check their breasts for abnormalities. Breast self-exams are easy to do – ask your doctor if you are unsure of how to perform it properly. The chances of survival are significantly higher if the cancer is detected in its early stages.
At least once every three years, go for a mammogram to screen for breast cancer. Women over 40 should go for a mammogram annually. Women over 55 should switch to screening every 2 years.
Why not include these ideas into your self-care routine?
Check your breasts regularly for lumps, especially while you are in the shower
Did you know that one of the best times to check your breasts is when you are soaping your body? It is much easier for your hands to glide across slippery skin, which helps you to check more thoroughly.
Massage your breasts while relaxing in the shower or bath
In general, massaging improves your overall blood circulation, which helps keep your body in optimum condition. Furthermore, taking the time to relax will help reduce stress and can lead to better health.
Use sulfate-free body wash and paraben-free deodorant
We highly recommend the G&H REFRESH+ Body Wash-Gel to get you squeaky clean and the G&H PROTECT+ Deodorant & Anti-Perspirant Spray for lasting freshness.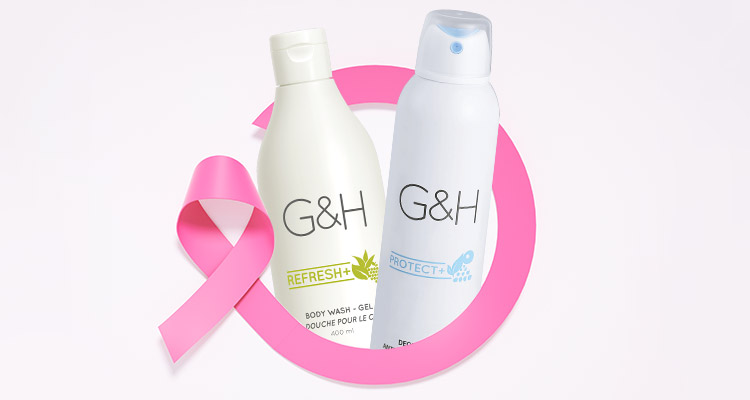 Gentle yet deeply cleansing, the G&H REFRESH+ Body Wash-Gel is infused with an exclusive botanical blend for healthy skin. Aloe sourced from the desert helps retain the skin's moisture. Grape Seed Extract from red grapes provides 20 times the protective power of Vitamin E. Green Tea Extract hydrates and protects, having retained more nutrients than other teas. It also helps keep skin calm with its patented anti-irritation complex, leaving you with soft, refreshed skin.
A hit since its launch, the G&H PROTECT+ Deodorant & Anti-Perspirant Spray helps fight sweat and body odour for up to 48 hours. Great for sensitive skin, it contains White Tea Extract, Bilberry Extract, Natural Minerals, Vitamin C and Lichen Plus to help control sweat and inhibit odour formation. Some of these ingredients have been used for years, loved for their protective benefits.
Take care of yourself and shop healthier at www.amway.my