Diamond Muthualagu & Shela
TEMERLOH | SOMA & JAYA
Nothing Is Impossible For A Winning Heart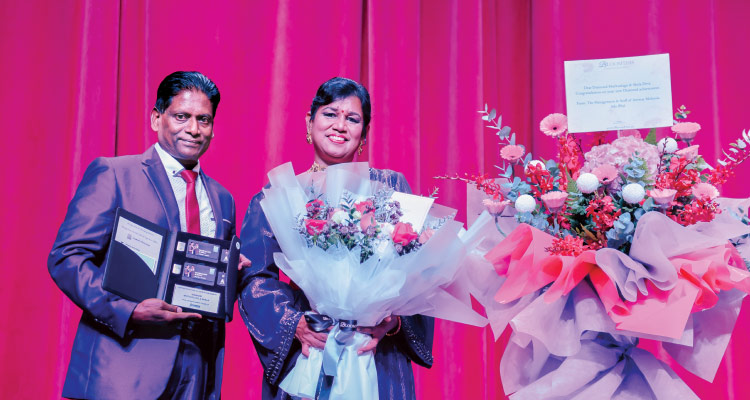 We signed up with Amway to make an extra RM200 each month. Little did we realise that it would offer us the chance to quit our jobs as court interpreters at the Temerloh High Court and Magistrate Court.
Due to the nature of our jobs, we were very sceptical initially and refused to trust anything blindly. We were advised by the people around us not to waste our time with Amway as many have given up and failed.
Only after attending an Amway seminar in Kuala Lumpur did we learn that the business is a great platform for anyone who dares to dream and willing to change their lifestyle. Muthu wanted to live a debt-free life, and I wished to be a full-time mother. So we committed ourselves to learning all about the business.
Building our business while caring for four young children and juggling our demanding jobs was not easy. Yet we felt hopeful as we had put ourselves in the right environment surrounded by great leaders. Although we encountered numerous challenges, we maintained a positive mindset and committed ourselves to achieving our dreams.
Thanks to Amway, we now have the best work-life balance and peace of mind. As business owners, we are able to spend more time with our children and quality time with our elderly parents. Over the years, we have qualified for 21 Amway Leadership Seminars and travelled all over the world on all expenses paid trips with Amway.
Hence, we would like to thank both our parents, family members and relatives, as well as our babysitters for caring for our children while we were building the business. We are grateful to Sapphire Soma & Jaya, Diamond Pathmabathi Sankaran, Diamond S T Palan & K Amirtha, and Crown Ambassador Sonny & Guat Hwa Ho, for paving the path towards our success. We are also grateful for the support of Amway Leaders from other organisations.
Lastly, we would like to acknowledge our team for their unconditional love, great team effort, strong work ethics and entrepreneurial mindset. This includes our Thailand ABOs and Leader, Platinum Tisana Jarernswan & Natapol Wasinwatanakul.
Nothing is impossible for a winning heart. Dreams do come true at Amway. Aim high, dream big, you too can do it. With Amway, we have achieved the FREEDOM of Time, the togetherness of FAMILY, a great HOPE for the future, and a life filled with abundant REWARDS.