Your Car's Air Can Be Up To 15 Times More Polluted Than Outside Air!
The holiday season is upon us. It's time to unwind and recharge with our loved ones. What better way to bond than with a road trip! Hopping into the car for the long leisurely drive out of the city, you make sure to wind up all the windows to keep the dirty air out. Except you don't realise that the air pollution in your car can be worse, up to 15 times* more polluted than outside air.
Thankfully, the ATMOSPHERE DRIVE™ Car Air Treatment System can help improve the air in your car. It is a self-installed, in-vehicle air purification system that leverages on the proven ATMOSPHERE™ filtration technology to provide you with fresh and safe air in your car. It has been proven to have a superior cleaning rate, i.e. a Clean Air Delivery Rate of 30 m³/hr, higher than most other competitors in the market.
The ATMOSPHERE DRIVE is able to filter 99% of Particulate Matter 2.5 or PM2.5 and airborne particles 0.015 microns or larger. It addresses in-car air pollution by filtering formaldehyde and toluene emitted by the upholstery; vehicle exhaust emission and pollen entering through the gaps in the car; food odour, cigarette smell and pet dander; dust and bacteria released from the air conditioner's filter; as well as dust mites from stuffed toys.
The in-car air treatment system uses safe, reliable, and effective technologies that you can trust. It's safe because it doesn't produce harmful byproducts, like ozone, ions or oxidizers, which can irritate your eyes, nose and lungs. It's reliable because it's designed for high quality performance.
*Note: According to a study run by the British Environmental Audit Committee in 2014, you can suffer from more air pollution while driving a car than walking on the street. In fact, people, especially children, are exposed to up to 15 times more pollution in their cars than walkers and cyclists outside.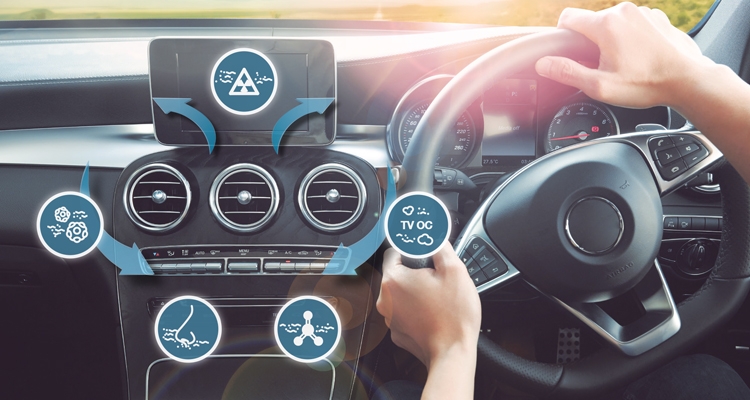 High cleaning efficiency for purified air and peace of mind
The ATMOSPHERE DRIVE offers superior performance, enabling fresh air to fill every corner of the interior, instantly improving your in-car air quality.

3-in-1 highly efficient filters
Captures Particulate Matter 2.5 or PM2.5, formaldehyde, total volatile organic compounds (TVOCs) and odour to improve air quality in the car while on-the-go.

High speed filtration
One large output with significant air flow, with a 30m³/hr of Clean Air Delivery Rate (CADR)**, removes more than 50% of particulates from air passing through the filter in 5 minutes.

E-monitoring system
Uses smart technology to monitor in-car air quality and auto-mode fan speed to keep the air in the car fresh.
**CADR refers to the amount of air being filtered through the air treatment device per minute. The higher the CADR number, the more efficient it is. While most in-car air treatment devices have a CADR of ≤ 14 m³/hr, the ATMOSPHERE Drive has a CADR of 30 m³/hr, which is twice as fast. Tests have shown that it can filter up to 50% of particulate matter 2.5 or PM2.5 pollutants within 5 minutes in a 3m³ space and achieve 99% of filtration result within 30 minutes.

3-in-1 high efficiency filters to capture particles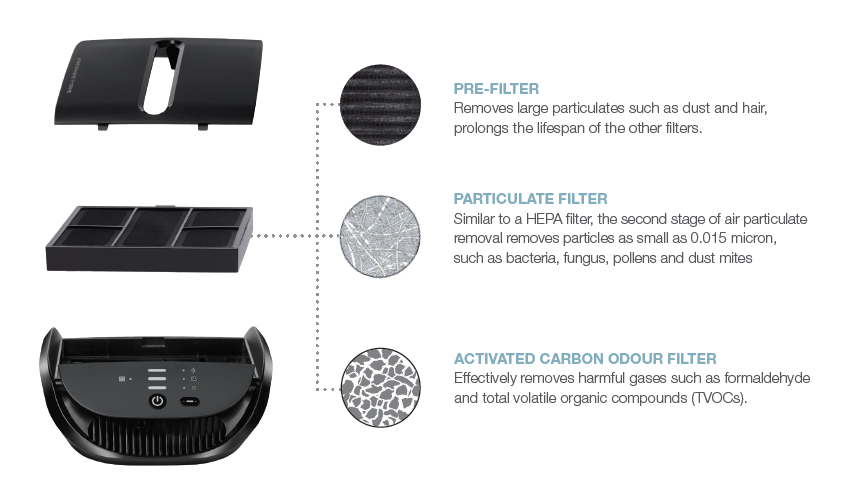 Pre-filter
Removes large particulates such as dust and hair, prolongs the lifespan of the other filters.

Particulate Filter
Similar to a HEPA filter, the second stage of air particulate removal removes particles as small as 0.015 micron, such as bacteria, fungus, pollens and dust mites.

Activated Carbon Odour Filter
Effectively removes harmful gases such as formaldehyde and total volatile organic compounds (TVOCs).

The ATMOSPHERE DRIVE: The first and only in-car air treatment system to be certified
The ATMOSPHERE Drive is the first and only in-car air treatment system to receive the Seal of Approval by the British Allergy Foundation for its efficiency in removing allergens. Scientific tests have shown that the device effectively removes dust mites, pollens, fungus, pet dander and other allergens. In other words, it is scientifically proven to reduce or remove allergens.
Founded in 1991, the British Allergy Foundation is one of the earliest charity institutions in the world that cares about allergen sufferers. It provides consultation service and advice for patients suffering from various allergies. Hence, the certification by the British Allergy Foundation shows that the ATMOSPHERE DRIVE is suitable for use by allergen sufferers.

DRIVE With Confidence And Clean Air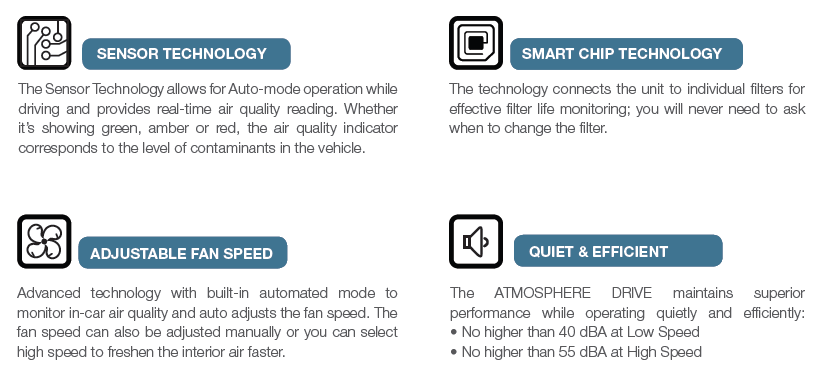 Sensor Technology
The Sensor Technology allows for Auto-mode operation while driving and provides real-time air quality reading. Whether it's showing yellow, amber or red, the particle sensor indicator corresponds to the level of contaminants in the vehicle.

Smart Chip Technology
The technology connects the unit to individual filters for effective filter life monitoring; you will never need to ask when to change the filter.

Adjustable Fan Speed
Advanced technology with built-in automated mode to monitor in-car air quality and auto adjusts the fan speed. The fan speed can also be adjusted manually or you can select high speed to freshen the interior air faster.

Quiet & Efficient
The ATMOSPHERE DRIVE maintains superior performance while operating quietly and efficiently:
No higher than 40 dBA at Low Speed
No higher than 55 dBA at High Speed
To enjoy the best results from your ATMOSPHERE DRIVE, set your unit on AutoMode and let the device do the work for you. The user interface has been designed to be intuitive and informative. It enables you to always be in control of the air quality within your car.