We can relate – your working hours are long, the household chores seem endless and you are left stressed out with hardly any time for yourself.
Why not make your personal care into a relaxing sensorial experience?
Whether it's getting ready for the challenges ahead or unwinding for the day, tune your mind and body with these excellent bath & body remedies from our Customer Favourites selection: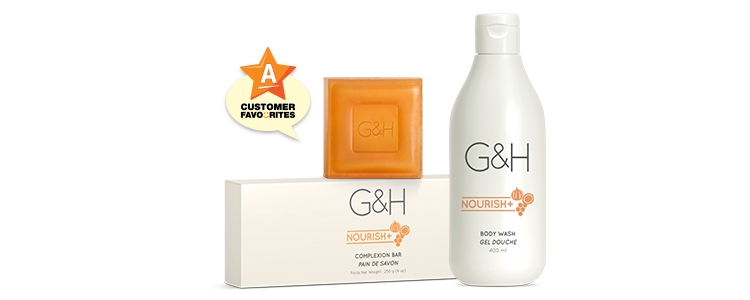 Nourish your skin
Get some goodness into your skin with the NOURISH+ Body Wash. Its exclusive botanical blend of orange blossom honey, shea butter and pumpkin seed oil will improve your skin's natural moisture levels and leave it feeling smooth, clean and nourished.

Clear things up
Good for your face as well as your body, the translucent NOURISH+ Complexion Bar comes with a clever design for easy sharing – simple break apart and spread the love. Skin looks and feels healthier and softer as its gentle formula significantly improves your complexion.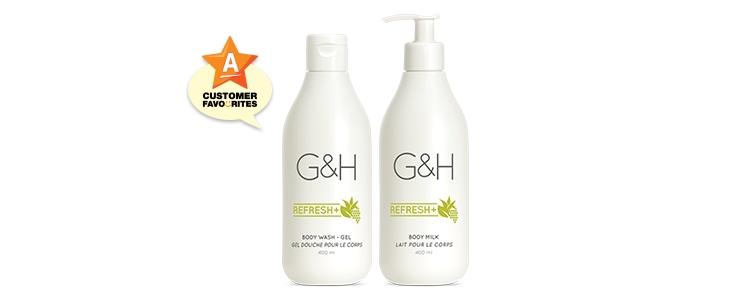 Soothe and hydrate
Lather up with the G&H REFRESH+ Body Wash-Gel. Perfect for delicate and sensitive skin, it features a patented anti-irritation complex as well as aloe, grape seed extract and green tea extract to calm dry skin while maintaining a healthy glow.

Get long-lasting moisture
Massage the G&H REFRESH+ Body Milk all over your body and let its natural ingredients melt into your skin for up to 24 hours of hydration. Enjoy its delicate scent as you soak up more goodness from the botanical blend of aloe, grape seed extract and green tea extract, each selected for its hydrating and skin-protecting properties.


Don't neglect your hands
Keep your skin healthy and beautiful – even with constant hand washing. The G&H PROTECT+ Concentrated Hand Soap combines white tea extract, bilberry extract and natural minerals to cleanse without drying out your skin so you can stay clean and worry-free.