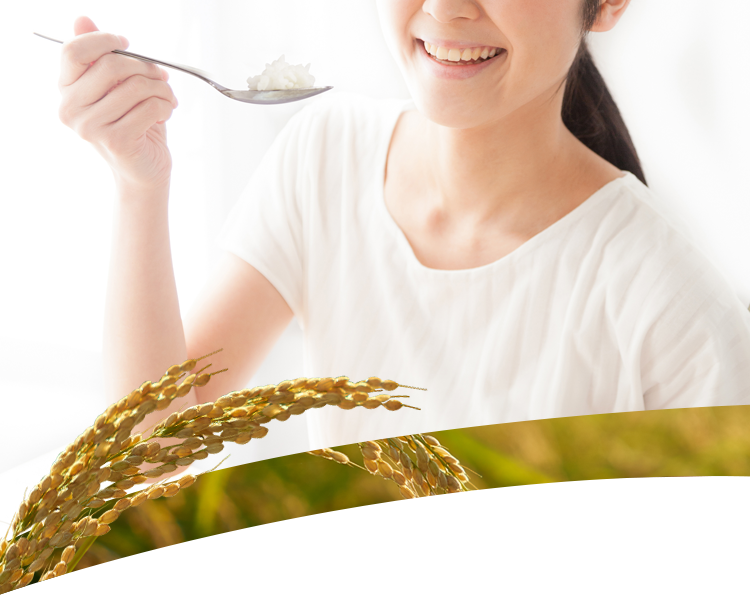 Do you love eating rice? So do we! Rice isn't just yummy; it is in fact a great source of fibre, vitamins and minerals1, and with such delicious rice dishes ranging from nasi lemak to chicken rice and biryani, it's no wonder Malaysians can eat rice two or even three times a day.
That said, it is important to choose healthier types of rice as starchy varieties such as the popular and cost-effective white rice can have a high sugar content. Multiple studies have shown that excessive consumption of white rice increases the risk of hypertension2, diabetes3 and heart disease4.
How unhealthy is white rice?
A familiar sight across Asia, processed white rice is the most common variety. Most of its wholegrain component is removed during processing, making it lower in protein, fibre and nutrients compared to brown rice. That said, as a refined grain, it has a relatively high Glycaemic Index (GI).
But Mama always used white rice in her cooking…
Let's be honest – we will always insist on white rice, even though we know that it is not the healthiest option. What else would taste as good paired with flavoursome dishes from spicy curries to stir-fried cuisine? Just the thought of soaking up a glorious gravy with hot and fluffy white rice is enough to get us excited for our next meal!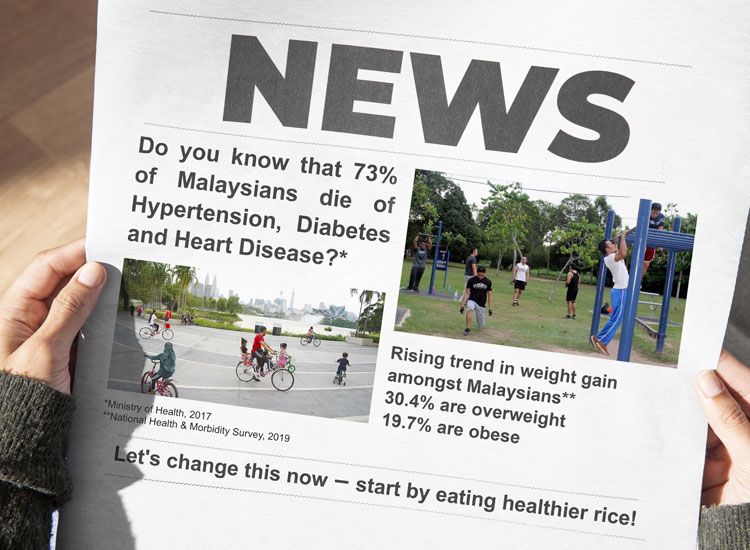 However, considering that 73% of Malaysians die of hypertension, diabetes and heart disease5, while 30.4% are overweight and 19.7% are obese6, perhaps it is time we all lead healthier lifestyles.
Let's start with the food we eat.
What if we told you there is a way to effectively reduce starch from white rice, thus cooking healthier versions of your favourite white rice dishes?
SGS certified, the Noxxa Low Sugar Rice Cooker reduces up to 41% starch from white rice although it is suitable for cooking any type of rice. It comes with 10 multifunctional programs on a touch-screen control panel ​that will make preparing healthy meals for yourself and the entire family a breeze: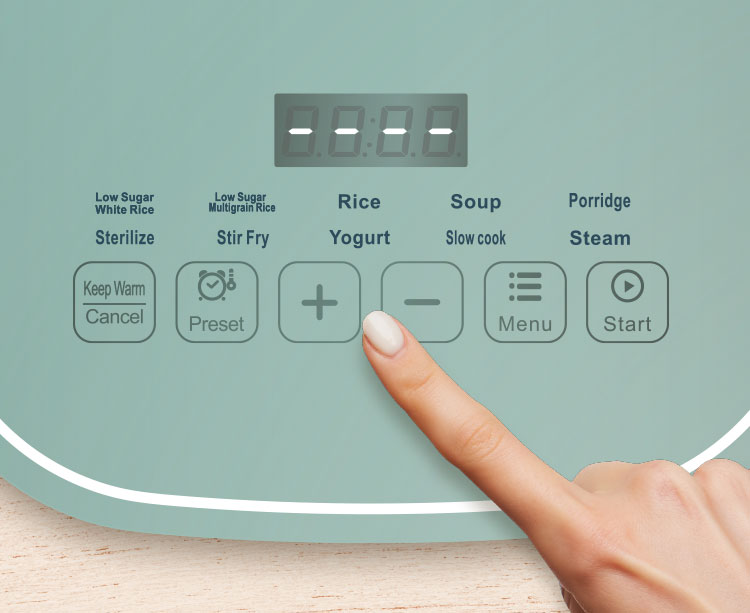 Low Sugar White Rice

Low Sugar Multigrain Rice

Rice (any type)

Soup

Porridge

Sterilize (a blessing for mums with plenty of baby milk bottles to clean)

Stir Fry

Yogurt (home-made treats low in sugar, anyone?)

Slow Cook

Steam
Easy to use, the Noxxa Low Sugar Rice Cooker boasts a large capacity with its 3-litre Ceramic Strainer and 5-litre Stainless Steel (304) Inner Pot​. Bring on the family gatherings!
Who would benefit from using this rice cooker?
The Noxxa Low Sugar Rice Cooker is a must in all households, especially if you currently struggle with or wish to prevent
In addition, it is also highly recommended for the health conscious and the elderly.
Remember, healthy habits begin at home. Pave the way for your children's healthy future by teaching them to eat healthily from a young age and serving them healthier white rice.
So, what are you waiting for? Let's start cooking healthier rice today!
References:
Fukagawa NK, Ziska LH. Rice: Importance for Global Nutrition. J Nutr Sci Vitaminol (Tokyo). 2019;65(Supplement):S2-S3. doi: 10.3177/jnsv.65.S2. PMID: 31619630.
Nishimura M, Yoshida S, Haramoto M, Mizuno H, Fukuda T, Kagami-Katsuyama H, Tanaka A, Ohkawara T, Sato Y, Nishihira J. Effects of white rice containing enriched gamma-aminobutyric acid on blood pressure. J Tradit Complement Med. 2015 Jan 8;6(1):66-71. doi: 10.1016/j.jtcme.2014.11.022. PMID: 26870683; PMCID: PMC4738072.
Bhavadharini B, Mohan V, Dehghan M, Rangarajan S, Swaminathan S, Rosengren A, Wielgosz A, Avezum A, Lopez-Jaramillo P, Lanas F, Dans AL, Yeates K, Poirier P, Chifamba J, Alhabib KF, Mohammadifard N, Zatońska K, Khatib R, Vural Keskinler M, Wei L, Wang C, Liu X, Iqbal R, Yusuf R, Wentzel-Viljoen E, Yusufali A, Diaz R, Keat NK, Lakshmi PVM, Ismail N, Gupta R, Palileo-Villanueva LM, Sheridan P, Mente A, Yusuf S. White Rice Intake and Incident Diabetes: A Study of 132,373 Participants in 21 Countries. Diabetes Care. 2020 Nov;43(11):2643-2650. doi: 10.2337/dc19-2335. Epub 2020 Sep 1. PMID: 32873587; PMCID: PMC7576435.
Muraki I, Wu H, Imamura F, Laden F, Rimm EB, Hu FB, Willett WC, Sun Q. Rice consumption and risk of cardiovascular disease: results from a pooled analysis of 3 U.S. cohorts. Am J Clin Nutr. 2015 Jan;101(1):164-72. doi: 10.3945/ajcn.114.087551. Epub 2014 Nov 12. PMID: 25527760; PMCID: PMC4266886.