Lockdowns are lifting and vaccination rates continue to climb! It's an exciting time of adjusting back to interacting with the outside world again, but that doesn't mean your health should take a backseat.
Living with the COVID-19 virus in an endemic does sound scary but that does not make it impossible to lead life, the 'new normal' way. To kick things off, routines will have to change to offer better protection against germs and bacteria to do that, we urge you to Protect KawKaw' Together with Nutrilite. COVID-19 hasn't been beaten yet, and you shouldn't let it get the better of you!
Common Immunity Issues Among Young Adults
Some of you busy bees might be already feeling the signs of a weakened immune system. Full days with schedules piled with meetings and deadlines, paired with insufficient sleep can take a great toll on your wellbeing. Do you:

Fall sick easily?
Get tired by midday?
Get acne/skin breakouts frequently?
Have brittle nails and hair loss troubles?
Any or all of these sounds familiar? If you find yourself experiencing any of these issues, you are likely suffering from a nutrient deficiency in your everyday diet. These symptoms can be caused by a lack of the following nutrients in your diet: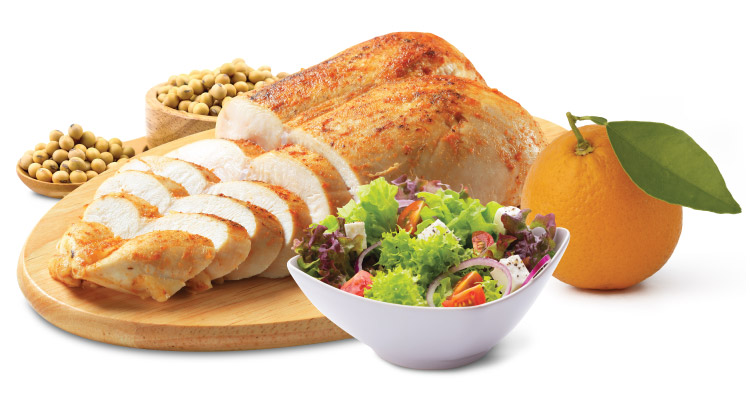 Protein
Promotes muscle growth as well as strengthens hair, skin and nails.
Develops red and white blood cells, which reinforce immunity and combats illness.
Vitamin C
Necessary for healing damaged skin.
Promotes collagen synthesis and brightens skin complexion.
Phytonutrients
Helps body function better
With back-to-back meetings in one's day, it can be hard to plan for healthy meals. Ordering in has been a lifesaver for many, especially young adults who seek a quick and easy solution to accommodate their busy schedules. Eating healthy might not be an ideal option for all but bolstering your diet with health supplements and vitamins can certainly go a long way!
Not sure where to start with your supplements? Try out Nutrilite!

Common Immunity Issues Among the Elderly
We call our senior citizens "warga emas" in Malay, and truly the golden age should be cherished and savoured without the worry of potentially fatal illnesses or diseases. However, it is inevitable that as our bodies age, so too does our immune system. The body's defence system begins to slow, and the decrease in immune cells can lead to various illnesses if left unmanaged and unmonitored.
Some signs of a weakening immune system in the elderly can include: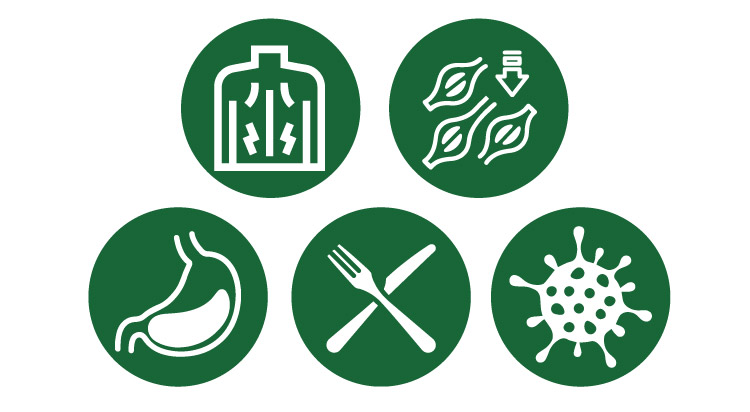 High levels of inflammation in the body
Muscle loss
Poor digestion and nutrient absorption
Decreased appetite
Prone to infections and sickness
While some might think that these are the inevitable effects of age, the truth is rapid deterioration of one's health can be attributed to a nutritional deficiency. Stock up on the following to help your senior loved ones combat these issues:
Echinacea
Keeps the immune system functioning in optimal condition.
Prevents coughs and colds.
Should be taken only when necessary.
Garlic
Anti-inflammatory properties.
Active ingredient allicin boosts immune system.
Vitamin C
Boosts slowing immunity.
Encourages white blood cell production to fight infections and diseases.
Protein
Improves energy levels.
Encourages muscle growth and improves muscle strength retention.
Retains bone mass and aids in body repair and maintenance.
Probiotic
Guards the immune system against bacteria and germs
Balances the natural healthy gut flora and bacteria to prevent constipation and encourage healthier bowel movements.
Of course, glucosamine and calcium supplements are also important for maintaining joint health. Bone density deteriorates as the body ages and causes susceptibility to serious injury.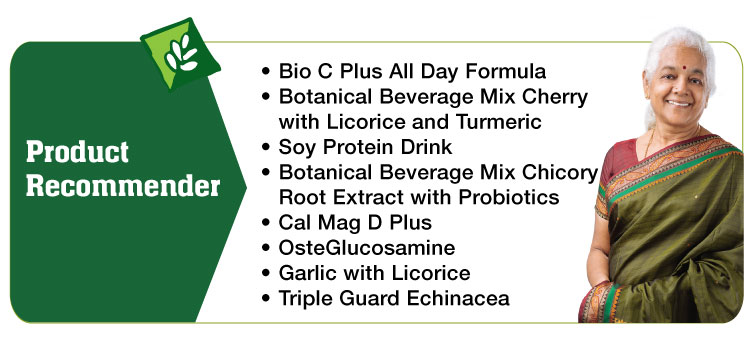 The battle is far from over! Staying vigilant about your health and immune system means keeping your loved ones safe. Be sure to check out our other products on Amway.my.