A quick look at Instagram will show a welcome rise in people taking better care of themselves recently. Every day, countless photos and videos pop up featuring fun workout routines, healthy recipes and creative ways to relax. What is interesting is how quickly this has started a positive chain reaction, inspiring everyone to do the same.

Why is self-care increasingly important today?
Besides ensuring that you are in good physical health, self-care is important for our mental health as well. Self-care promotes confidence and higher self-esteem, and having a strong relationship with yourself in turn improves your relationship with others. After all, you communicate more effectively when you're in a good mood.
Also, think of your Me Time as a reward for getting work done efficiently. Keeping this prize in mind also helps you focus on important tasks, which helps you manage stress better. Why not start with pampering your body at home? You deserve it!
Indulging your body is as important as caring for your face
Many people reserve luxurious pampering for their face but, your body works so hard to take care of you and should be treated with the same care.
Pamper your body as you would your face – regularly and with special attention to its unique needs. The skin all over your body has the same concerns as your face, whether it's dryness, dullness, ageing, sagging or uneven texture.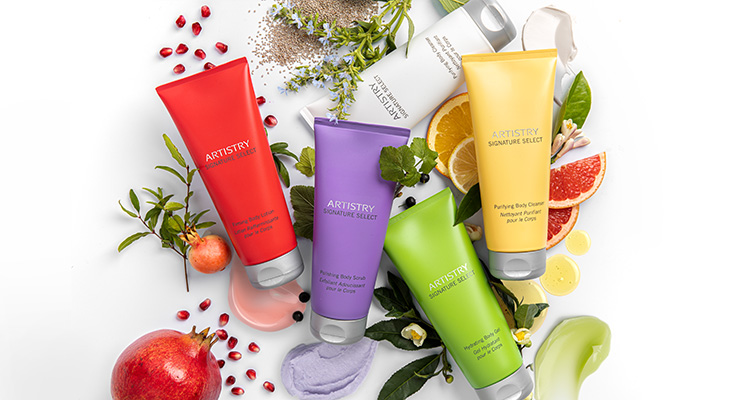 Here are 5 things we love:
ARTISTRY SIGNATURE SELECT Purifying Body Cleanser
Nutrilite™-sourced citrus extract and naturally derived oils of Perilla and Evening Primrose help strengthen skin as well as defend against dryness for soft, smooth and moisturised skin.
ARTISTRY SIGNATURE SELECT Polishing Body Scrub
Bamboo Grains reveal a healthy fresh glow, while Nutrilite™-sourced Black Currant Extract and soothing Açai along with Evening Primrose and Perilla Oils leave a soft, supple feeling.
ARTISTRY SIGNATURE SELECT Hydrating Body Gel
Nutrilite™-sourced Green Tea and Peach Flower Extracts, plus Perilla and Evening Primrose Oils strengthen the moisture barrier and protect against pollution for smoother, younger skin.
ARTISTRY SIGNATURE SELECT Brightening Body Cream
Natural light diffusers and Nutrilite™-sourced Acerola Cherry and White Chia Seed extracts for brighten skin for renewed radiance. Gentle refinishers smoothen skin and improve cell turnover for a more luminous and even-toned look.
ARTISTRY SIGNATURE SELECT Firming Body Lotion
Firm up skin and reduce the appearance of cellulite. Skin Firming Complex with Coffee Seed Oil, Caffeine and Algae Extract provides an instant tightening feel, and tighter and smoother skin over time while Nutrilite™-sourced Pomegranate Extract helps repair damage.
Get serious about pampering your body skin to look and feel good all over, and get ready to take on the world!